Ideas to Create Versatile Flooring Designs Using Concrete and Hardwood
Posted by Danny Margagliano on Tuesday, March 2, 2021 at 2:32 PM
By Danny Margagliano / March 2, 2021
1 Comment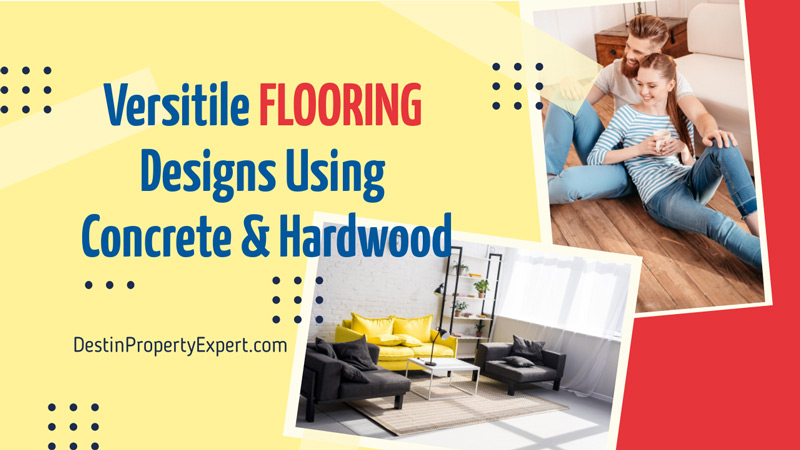 A classic look translates a nice balance between polished and practicality. The flooring materials at home are your starting point to achieve it. Bring the comfort of creating such a look in your homes. Use materials that depict versatility to adapt to any style. Most important of all, it won't have to cut holes in your pockets.
Only two flooring materials will let you have a design coherence. Hardwood floors and concrete fit together so well. When you combine these two, they will create a seamless transition of patterns and style. Create unified visuals as you put them in your interiors and exteriors.
Look around your properties and list down parts of your homes that need decorative changes. Are there any South-origin wooden floors that are still in perfect shape but need some do-over? Or you may have your residential concrete and needs a style upgrade?
Today's post will show you all the ways you can use versatile materials and how they can work side by side in improving your homes!
Versatile Flooring Ideas for You to Try
Hardwood and concrete are two popular flooring materials that can go with any style. Check out the ideas below. Take your pick from the different ways you can combine the use of concrete and hardwood.
1. Nordic Inspired Floor Designs
The English shores inspire the look of sandy-white floors. A walk on the beach is now true for you when you revamp your wooden floors. White-washed wood creates a subtle mood for your bedrooms. It mimics the fine sand you step on when you stroll by the beach.
Create that Scandi-styled interior in your living rooms. Then complete it with sliding glass doors leading to your patios. What you will achieve here is a living room by the beach ambiance.
Make a coherent look pairing your sandy white living rooms with acid-stained concrete floors in your properties.
2. Wooden Stamped Concrete
After renovating your nordic themed interiors, you may still have random wood planks left. Do not dare to throw them out. You can reuse them. How?
The leftover planks can serve as stamping mats to make wooden stamped concrete. Wooden patterns are suitable for outdoor concrete floors. One of the trending designs today is natural, raw wood design.
So, what is wooden stamped concrete? Is it wood or concrete? Good thing you asked. In general, this is one version of stamped concrete floors.
Concrete stamping is a flooring design that uses rubber stamps to embed patterns on fresh concrete. They copy raw materials like stone, brick, paver, and wood as their natural look. These designs are what become the concrete's natural look.
The wooden stamped design captures the exact look of wood. The natural creases from a plank mark themselves on the fresh concrete overlay. As the fresh concrete mix dries up, the wood patterns slowly emerge on the surface.
3. Wooden Finish Decorative Floors
You can also mingle the wooden design with other materials. An idea that you can put around your home's interior is a wood and pebble combo.
You can make use of this combination for the transition steps in your rooms. A living room can seamlessly transition to your dining and kitchen area with a streak of pebble floor. Put around it a frame made of wooden planks.
Create a comfy feel in your bedroom with a slight touch of wooden floors. Mix and match carpets to add warmth and subtle appeal. Wooden floors combined with wool carpets tell you that it is time to put yourself in peace mode.
4. Stripped Down Concrete and Wood
One look that will soon pop up in your properties is the stripped-down design. The unpainted walls and concrete floors look great for busy areas. Your kitchen spaces are the ones that get messy more often than any other site at home.
When you try to renovate this space, the dirt that got stuck on the floor and kitchen counter stress you out. Architects and designers now come up with a practical solution. Why not strip the whole place down?
Instead of repainting the walls and floors, why not remove the coating and coverings. Stripped down the concrete and wooden surfaces. Leave them as it is. The rustic bare look of wood and concrete now displays a mix of classic and contemporary.
Your kitchen floors will embrace a more traditional style with old wooden flooring styles. Maintenance will not be a bother to you, as well. Apply on it a wax or clear acrylic coating to protect it and add water and stain proofing. By doing this, you can leave the floor for a long time without constant upkeep. And still, see a polished floor and the end of every day.
5. Tropical Patios and Pool Areas
Wood and concrete flooring are also the best pool decking materials you can find in the market today. You can mix and match the two to design the decks around the pool. Raw concrete and wood are the raw material. Get closer to nature when you put them together to create your outdoors.
If you cannot afford complete wood decking to your whole swimming pool flooring, combine it with other materials. Plus, if you mix pebbled flooring and exposed aggregate to your wooden pool decks, you can build from it a tropical or ethnic-themed swimming area.
Benefits of Wood with Stamped Concrete
Here are some fantastic benefits of using wooden stamped flooring:
You can have the classic look of wood on your outdoor floors without cutting trees for timber. You'll only use an overlay of concrete to put over existing slabs. No raw materials to throw into the waste.
Combining the best qualities
You can have the practicality and style of wood and the strength of concrete in one. When placed outside, concrete is more likely to be more durable than wooden flooring. Wood and concrete both do not like when it rains. However, wood will somewhat soften and become malleable when it's damp. Meanwhile, concrete will resist moisture.
Wooden floors for outdoors
Wooden floors often get challenged when exposed to extreme heat and rain. Coastal, humid areas will prefer wood to match the sunny vibe of the city. Besides, wood materials quickly dissipate water when heated. It's an advantage of wood. Concrete flooring, on the other hand, heats up faster in dry, hot places.
Combining the strength of the two materials creates an efficient product. Some materials have distinct advantages that others don't. So if you like concrete but you feel it lacks style, stamp it or combine it with wood.
Getting the Experts' Approval
Designing your properties can be a daunting task. So, if you want to take the DIY path to create decorative floors in your spaces, you can do so. But here are some reminders. Take note that you can always get in touch with professional flooring contractors and hear tips and advice.
Wood and concrete are sustainable materials that can achieve quality outcomes. So, do not let that opportunity go to waste. If you are not sure of the process of how to use concrete and wooden floors together, go to the pros. The experts are willing professionals that can give you any sort of assistance needed. Plus, you can assure that if you work with one, the result of your project is going to be one of a kind.
Rest assured that working with expert designers and architects will grant successful property improvement. They got the tools, the time, and the expertise!
Considering the Cost
Wood and concrete are durable materials. So, having them on your property's floor will assure that the surfaces will last. You can be assured of having polished floors all year round! When you need to weigh the cost, consider the following factors.
Installation Cost. The wonderful thing about coupling concrete and wood is that it cuts installation costs. If wooden floors are too expensive for your budget then mix them with concrete. Concrete as a cheaper option will not limit that style you want to achieve. You can own seamless wooden patterns when you mix the two.
Repair and Maintenance Cost. Hardwood floors and concrete floors stamped with wood are low-maintenance. These two are generally suitable for the outdoors. So, you do not have to worry about cleaning them. You can decide to have these outside your properties.
Labor Cost. As these materials are versatile, you can also make use of them in many ways. You can have the pros installed for you. Or, you can commit to DIY with them. DIY floors are fun and light to your pockets. But, at the end of the day if you want to possess polished, flawless flooring work, get the pros!
Conclusion
Nowadays, you can innovate by using two types of elements to paint harmony in your properties. The strength of concrete floors is that they last for years. Take its form a little step higher when you couple it with the wooden pattern. You will find your flooring to be versatile, strong, and aesthetically pleasing when using concrete and hardwood floors.
Additional real estate resources
Joe Boylan put together an article discussing flooring types buyers prefer. When installing flooring in your home is best to not only think of yourself and your preferences but also resale.
Paul Sian gives some great advice on what to clean up around the house when selling. Your personal treasures and style may be wonderful for you to see and look at but could be a turnoff for potential homebuyers.
Brian Davis has written a great blog about how to redesign your kitchen and bathroom. In this article, you will learn everything from replacing the flooring to painting kitchen cabinets.