Five Ways to Protect Your Floors From Scratches and Scuffs
Posted by Danny Margagliano on Thursday, August 27, 2020 at 4:40 PM
By Danny Margagliano / August 27, 2020
Comment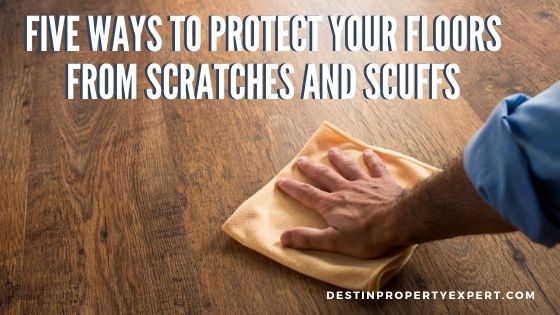 Wooden flooring is a true classic that makes the space natural-looking and beautiful and not to forget, and these are long-lasting as well. As it blends well with most furniture and home décor, these are undoubtedly the most popular flooring option. These flooring types are magnificently exotic and require little maintenance or repair.
However, this beautiful flooring option can get not-so-beautiful scratches due to day to day activities. Even the most cared and maintained wooden floor may get scuffs, deep gouges by the movement of furniture. It is particularly true in high traffic areas of your home like a living room or dining room, and that's where most of the furniture is located.
These marks on your wooden flooring are no less than an eyesore. Fortunately, there are ways with which you can ensure that your floor remains protected from scratches and scuffs. With the following five tips, you can preserve your hardwood floor for years to come.
Furniture Pads
These are self-adhesive pads that are readily available or probably are lying unused in your almirah drawer. These are heavy-duty that makes a great wood floor protector. It helps you gently move your furniture around the floor, protecting the smooth wooden surfaces from scratches and scuffs. These are convenient to use, and the peel away layer can be pasted straight on the furniture legs etc. These self-adhesive furniture pads are commercially available at any local hardware, or you can try Reclaimflooringco and also get several other useful tips for your flooring.
Even if you seek a few helping hands while moving your furniture, you must use these pads so that you don't have to regret later. These help cushion the feet and the corners of furniture, raising them slightly off the floor. Made up of rubber, cork, and felt, it makes your flooring scratch proof from furniture movement. Now, you need not put wheels or lift your heavy furniture. Not only this, but these are also the best fit for chairs. People tend to shift while sitting on the chair or standing up, leaving minor but noticeable scratches on the floor. Use these furniture pads and the chair feet will never scratch the floor again.
Keep the entrance clean and use rugs
Keeping the areas outside the home entrances clean can help you prevent a lot of headaches. When back into the house, our shoes bring in all sorts of rocks, dirt, and debris, which damages your wood floors. A little pressure from walking, the soil, or the pebble in your shoe can leave an ugly, noticeable mark on your beautiful wooden flooring. Many a time a strong breeze blows in dust particles if its dirty outside. Therefore, paying particular attention to areas like entryways, garages, and patios helps keep scratches away.
You can put two rugs at every door, and it works effectively in keeping those scuffs and scratches away. Prefer a strong walk off matt or carpet on the outside of your entrance. It automatically makes your guests and family clean their shoes before entering the house. Using a second softer rug makes it even better as it catches more dirt while entering.
Or an even better way is to have no shoes rule inside your house or the rooms where there is wooden flooring. Removing the footwear altogether and offering soft slippers, solves everybody's problems.
Using mats for high traffic areas
Invest in an area rug, and you will find that it's the most convenient and effective option to adopt when it comes to protecting your floors from any damage. Not only will a rug add to an extra bit of style to your décor, but it also gives a cozy feel to the space. Place it thoughtfully in those parts of your room, where you feel your floors get the most stress. It also works well to protect your flooring from the water damage. However, just don't opt for the mats with rubber as it locks the moisture causing further damage to your floor.
A right mat will not only enhance the aesthetics of your room, but it also works as a cushion you're the furniture. You can move the furniture with ease without worrying about the risk of scratching or denting your floor.
However, there can be an issue that you may come across when it comes to rugs/ mats. These may mask the magnificence of your wooden flooring. However, if you plan to use it selectively, and only in the high traffic areas as discussed earlier, then these rugs will fit just fine with your décor.
Train your pets from scratching wooden floors
Your pets are a part of your family, and whether you have dogs or cats, you should let them enjoy your alluring wooden flooring as much as you do. Generally, a trained pet will never deliberately scratch your floor. However, walking across the wooden floor can also cause scratches and scuffs. To prevent this from happening, you should regularly trim the claws. For this, you can take your pet to the pet groomer, if that is required or even get it done at your own with a pet-friendly nail file.
Those trimmed claws of your pet will prevent unsightly scratches, and if you are taking your pet for long walks, it also helps. Furthermore, pets tend to dig the ground, and this instinct remains intact. Train your pet, work on the behavioral aspect, say a firm 'No' when starting to scratch and it works most of the time.
Therefore, instead of choosing between an exquisite wooden flooring and having a pet, train your pet and keep the claws trimmed. Alternatively, cover with a rug, the area of the room where your pet spends the maximum time, and that also works.
Protective topcoats and regular cleaning routine
Protective topcoats the best possible chance to make your flooring resistant to scratches and other damages. Go for the most effective topcoats and finishes. Even if your flooring came with the topcoat, then also you can apply a more effective finish later. Water and oil-based polyurethane are the best choices here. Wax coating is one of the oldest but least durable and demands frequent touch-ups and finishes as well. On the other hand, oil-based one is a tough finish, and you can apply it on your own as well.
Apart from these, you have the choice of water-based polyurethane and moisture-cured urethane. The latter one is the hardest, most durable but requires professional help to apply this finish.
Regular cleaning routine for your wooden flooring goes a long way in maintaining its magnificence. A clean floor is a protected floor as accumulating dirt and particles raise the risk of dings and scratches on your flooring. Brooms, mops, and vacuums are the best tools that keep your floors spotless.
It is a good idea to have a daily, weekly, monthly, and yearly schedule for the cleaning, using different materials and techniques. Cleaning is preventive maintenance that you should not miss.
The Takeaway
Taking extra care of your high-quality wooden flooring prevents your surface from experiencing wear and tear. Just be a little prudent, and your floor can look and feel like new for years.
Additional Realty resources
Joe Boylan has a great article discussing homebuyers preferences on flooring. He talks about everything from what's hot to what's not.
Anita Clark has a great debate on whether hardwood flooring or tile flooring is best for the kitchen.
Over at the website of Clever there is an excellent article going over all the best rental property flooring for 2020.