Tried And True Website Marketing Tips For Real Estate Agents
Posted by Danny Margagliano on Monday, November 1, 2021 at 9:40 PM
By Danny Margagliano / November 1, 2021
Comment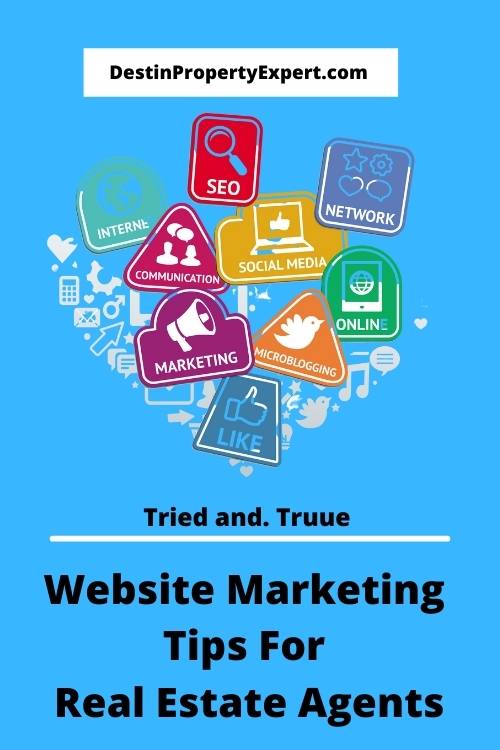 The real estate market is hot these days with no sign of slowing down. While that is good news for real estate agents, it also means that the competition is stiff with online listings. However, there are several marketing tricks you can employ with your listing website that will get you the exposure you need to move those listings. Here is a quick look at a few of the most effective real estate website tricks.
Get Responsive
In simple terms, a website with a responsive design is designed to be fully functional on mobile devices. When you consider that surveys show that people turn to mobile internet access more now than desktop access, it only makes sense to have your real estate listings online in a format that mobile users can connect to. A bonus to having a responsive website is that since 2015, Google has been rewarding responsive websites with higher rankings through the use of a new search algorithm.
Capture Leads
While clicks and views are the usual measuring stick for websites, a real estate website is more effective if it captures leads. That is because leads often become new clients. So, how do you capture those leads? Your website can utilize many different tools for that job ranging from highlighting the benefits of subscribing to your updates using strategic layouts and graphic images that lead a visitor to a contact form, and offering freebies related to market information that require a sign-up to qualify for.
Featured Listings
A real estate website is going to have a high volume of listings on it. One innovative trick is to save visitors a lot of time searching those listings with a section of featured properties for sale. What criteria you choose to determine the featured listings is up to you, but it is common to focus on such things as listings with recently reduced listing prices, certain categories of properties, or listings that are personal favorites. Whatever you do, featured listings will engage visitors to your website and keep them coming back.
Simple Search Tools
Nothing frustrates the average website visitor like difficulties finding what they are looking for. This is of particular interest when the website features real estate listings. It is also why it is important to offer simple search tools to help visitors find the types of properties that interest them. There are several search tool styles to consider. They include quick search toolbars, advanced search pages, or an interactive map search page. Whatever search tool you choose, remember to make it easy to locate and access from anywhere on your website.
Good Quality Images
Probably the most effective element in real estate marketing, is photos. What helps sell any type of property, from bare land to developed, residential to commercial, is attractive images. The right photos taken from the best angles have a way of evoking emotions and triggering imaginations. The idea here is to use images that portray the best possible condition of the property being featured. The use of stock photos may be affordable, but they don't do as good a job as current, up-to-date photos of a listing as it looks today.
Easy To Navigate
Your real estate website should follow the three-click rule. This means that any visitor to your site should be able to locate whatever it is they are looking for within three clicks. Depending on the complexity of your website, four clicks is still fine, but three is the recognized standard in good web design. Essentially, a three-click design is a streamlined website that is clear and concise and is easy to get into and out of. Ways to do this include the use of fixed headers, descriptive tabs, short menus, thin footers, and eliminating drop-down menus.
Testimonials
Word-of-mouth still plays well in today's world of high technology. This is why posting reviews from satisfied customers is always a good idea. These reviews not only show that your customer base is made up of real people but what they say can become relatable content that may be enough to attract another potential buyer or seller. Ensure that the reviews you publish highlight your specific skills as a real estate agent. Be sure to include a list of your affiliations and local community partnerships as these assist with building connections with new clients.
Helpful Resources
If people are visiting your website seeking information on local real estate listings, it means that you can also build your reputation as a local authority. You can do this by supplying links and guides. The most effective way to do this is through a blog page. This allows you to come across as an approachable individual. Use humor, fact, the seasons, real estate marketing board data, and whatever else you can share of interest as your topic choices. Publish regularly to encourage return visits.
Contact Info
One thing that assists a real estate agent in building a trusting relationship with potential customers is being easy to reach. This is why it is vital to have contact information listed where someone can connect with you at any given time. While listing an email address is a reliable method of contact, the best thing to do is to list phone numbers - a cell number in particular. A chat box is not a bad idea, but try to avoid using one that does not connect directly to you. Plus, when someone reaches out to you, you can't delay in responding.
Final Thoughts
It is not difficult to have a successful real estate website as an extension of your sales office. If you know how to incorporate the correct elements and tools within that website, you will have an edge against your competitors and see results with your monthly sales figures. Remember, your website has to be slightly different than a website for any other type of business simply because of the product you are promoting. However, once you start generating traffic, your website will become an authoritative source for those seeking real estate information in your area.
Marina Turea works as content manager at Digital Authority Partners, a San Diego-based digital marketing and website development agency.