What Buyers Want in 2023: A Great Backyard
Posted by Danny Margagliano on Thursday, May 4, 2023 at 3:12:17 PM
By Danny Margagliano / May 4, 2023
Comment
There are some features in a home that buyers are always looking for, like being in good condition, having a nice kitchen, and recently updated appliances. Each year, real estate experts notice unique trends that buyers are looking for in response to cultural or economic shifts. This year, according to Zillow, the top feature most buyers are looking for is a backyard.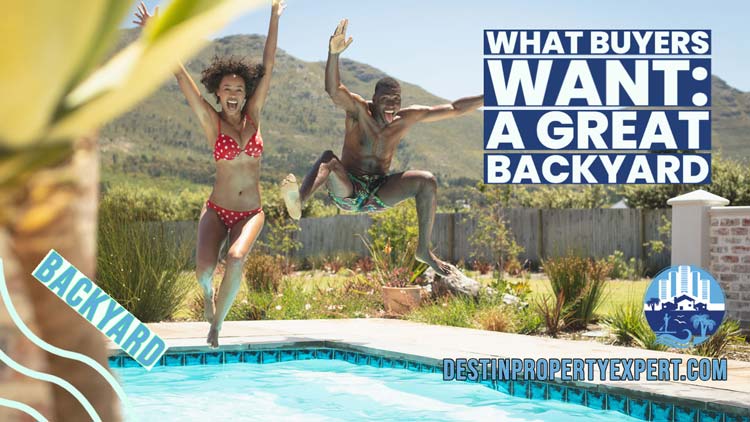 This might represent a permanent shift towards spending more time at home since the pandemic. Whatever the reason and season, people still are wanting to enjoy their backyard. There has been a steady increase in demand for a nice backyard.
If you are considering selling your home in 2023, you may want to get your backyard in its best shape ever to attract today's buyers. Check out these ideas to add resale value to your home, and enjoy it more in the meantime.
Add a Seating Area
If you do not have an obvious seating area already in your backyard, now is the time to design one. This can be a patio dining set or something more relaxed like outdoor lounge chairs. Conversational seating arrangements are a great way to create an extra living room and can be easily made more comfortable with outdoor pillows, potted plants, misters, citronella candles, and side tables for drinks.
Fire Pit
A fire pit is a favorite backyard feature, providing an obvious gathering place that can extend the time you are able to enjoy your backyard. In places like Northeastern Wisconsin, chilly evenings are common for much of the year, and the backyard fire pit is the perfect place to gather. Whether you plan to roast hot dogs and marshmallows or just want a place to warm up outside, you will love having a fire pit.
To make the biggest impact for resale, choose a timeless built in fire pit design and pave the surrounding area with concrete, pavers, stone, or gravel to create a permanent fixture in the yard.
Outdoor Kitchen
If you have the time and the budget for it, adding an outdoor kitchen can be a great way to make your home more enjoyable, and more marketable. A built in BBQ, pizza oven, or bar area will provide the centerpiece for entertaining and allow you to take full advantage of your yard during the warmer months.
Swimming Pool
Who doesn't equate backyard fun to having a swimming pool? Furthermore, there is no better place to have a swimming pool than South Walton Beach, Florida, or other locations with warm temperatures.
A backyard swimming pool doesn't mean fun just for the kids. It is fun for everyone in the family and great for parties. Although you will not recuperate all the money you put into building your pool when selling your home, it will certainly help your home to sell faster. Homebuyers love to see a house that already has a backyard pool installed.
Shade
Depending on the orientation of your property and the presence of mature trees, your backyard may be in need of some shade. In order to enjoy the backyard as additional living and entertaining space, consider adding one of these sources of shade:
Patio cover
Gazebo
Sun sails
Umbrellas
Canvas canopies
Landscaping
One of the best ways to ensure your landscape design is successful is to look at what thrives naturally in your area. Take your inspiration from local nature preserves and campgrounds, creating a more manicured version of the native ecosystem. When you are not fighting your local climate, you are much more likely to have a thriving garden and lush landscaping, whether you have a green thumb or not.
This will also translate well to resale value, allowing the landscaping to stay looking its best with minimal effort when it's time to sell. Having a healthy lawn will also make for a more inviting backyard.