What Causes Homeowner's Insurance to Rise and Fall
Posted by Danny Margagliano on Thursday, June 18, 2020 at 10:34 PM
By Danny Margagliano / June 18, 2020
Comment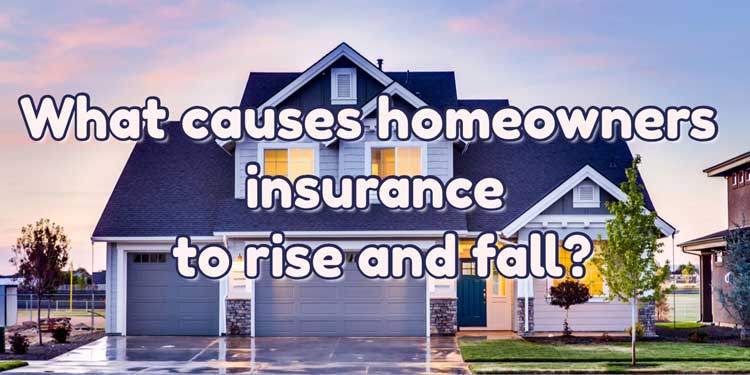 Buying a home is one of the largest financial investments you will make in your lifetime. As with any investment, it's important to safeguard your home – and not just physically. Homeowner's insurance helps protect you and your family from financial risk in case your home is damaged or destroyed by a fire or other natural disaster. The last thing you want is to see your investment literally go up in smoke without any money to help you recover and repair your home.
Homeowner's insurance is essentially a combination of two types of policies – hazard insurance and liability insurance. Since insurance companies use different metrics and overhead costs to price your insurance, premiums can vary from company to company. When purchasing a policy, it's important to understand how premiums are calculated so you can determine what type of coverage you need and why premiums fluctuate
Homeowner's Insurance Overview
At a minimum, a standard homeowner's insurance policy covers the cost to repair or rebuild due to damage sustained from a destructive event such as a fire, certain natural disasters, (hurricanes, tornados, hail, lightning), theft, frozen pipes, and vandalism. Natural disasters such as earthquakes and floods are not usually included in standard policies and need to be purchased separately. Homeowner's insurance also covers personal belongings inside the home andprotects you from liability if someone is injured on your property. In addition, many policiescover detached structures such as garages or sheds. Standard policies also include coverage for the cost of living away from the home if it is uninhabitable due to extensive damage. On top of basic coverage, you can purchase additional insurance for your specific needs.
While there is no legal requirement to purchase homeowner's insurance, most mortgage lenders require it. In addition, if you live in a condo or co-op, the tenant association may require coverage since an event at your condo could impact the other owners. Some common elements that can influence the price of insurance premiums are the location of your home, its age, type of construction and condition. Other factors contributing to the cost of your premium will depend on you and your needs. While there are several reasons your premium may go up, there are also many ways to lower your premium.
What Causes Homeowner's Insurance to Rise
Different types of coverage can influence the rate of your policy. Here are some factors which could contribute to a higher premium:
Neighborhood/Location
Areas prone to earthquakes, flood and severe weather (hurricanes, tornadoes) are subject to higher premiums.
Neighborhoods with high crime rates make your home more susceptible to theft.
Houses farther away from fire stations and fire hydrants may not receive aid in recovering their home as quickly in the event of a fire, resulting in additionally damages.
Certain Home Additions
Swimming pools, trampolines, fireplaces, wood-burning stoves, and balconies are all added risks.
High-end Items
Insuring expensive items can cause your rate to increase.
Keeping expensive valuables in your home (paintings, jewelry, furniture, etc.) will cost more than storing certain items in a safe deposit box or outside location.
Construction Materials
If the materials used to build the home are more expensive and higher quality, replacement costs will be higher.
Number of Recent Claims
If you have too many claims on your policy, especially if claims are unrelated to a widespread disaster such as a wildfire or hurricane, insurers might consider you a higher risk. In addition to higher premiums, your insurance company may not renew your policy if you've filed more than two claims in a year.
Credit Score
If allowed by state law, insurers can review your credit score and report. Homeowners with higher credit scores are considered safer to insure than those with poor credit.
Insurance Score
Insurers determine your insurance score by combining risk factors such as credit score, claim history, and safety features. The lower your insurance score is, the higher your premium will be. When your policy is up for renewal, insurers will update your score and may adjust your rate, if applicable.
Home business
Depending on your home business, you may need additional coverage for computers, phones, office supplies, vehicles or inventory on hand. Some electronics and other equipment may be covered by your standard homeowner's policy, but it may not provide enough coverage. If you have clients come to your home, that may add increased liability risk.
Pets
Your premium may be impacted if you have a certain breed or if your pet has a history of biting people.
What Causes Homeowner's Insurance to Fall
If your rates have gone up, there are actions you can take to lower your premium. Here are some factors, that can help you decrease your rate:
Smart Technology
Smart technology helps keep people connected to their homes through their computer, smartphone or tablet. If your home is equipped with smart devices (locks, thermostats, fire detectors, home security system, sensors etc.) you may be able to lower your rate. With smart technology, you can receive alerts and real-time data, which can help mitigate disaster, property damage, and loss of life.
Good Credit
Maintaining a good credit score can decrease the cost of your policy in the same way that bad credit can increase your rate.
Increased Deductible
The more you are willing to pay out-of-pocket in the event of a disaster, the lower your rate will be.
Disaster-resistant Upgrades
Making your home more resistant to windstorms or other natural disasters by adding storm shutters or reinforcing your roof can qualify you for lower premiums. Check with your provider before making upgrades to be sure that the additions will help lower your rate.
Incentive Programs
Insurers reward customers with discounted rates for holding multiple policies or being long-term clients.
Other Discounts
Insurers offer many different types of discounts, for example being a non-smoking home or setting up electronic funds transfer (EFT) payments. In addition, some employers and professional associations administer group insurance programs with cheaper rates.
Shop Around
When it's time to renew your policy, don't assume your current provider has the lowest premiums. Obtain quotes from other insurers prior to your policy's expiration date.
Paying Off Your Mortgage
Homes owned outright are generally cheaper to insure than those with mortgages.
Energy-saving Materials
Updating light bulbs, plumbing systems, and electrical equipment with more energy efficient models can lower your premiums, reduce your utility costs and qualify your home federal and state rebates.
Summary
Your home is most likely one of your most valuable assets, make sure you protect it. No one likes to think of a disaster befalling their home, but you'll be glad you have homeowner's insurance if an unexpected event occurs. While homeowner's policies can be expensive, you may have more control of your insurance costs than you realize. You should conduct a home inventory by going through each room and documenting any item over $50. While the process may be tedious, it will help in lowering costs and recovering all items if you need to file a claim. Additionally, review your insurance coverage regularly to guarantee your coverage is accurate and up-to-date, especially if you make any upgrades or acquire more expensive items.
Other Real Estate Resources