What to do in Rosemary Beach FL – Complete Guide
Posted by Danny Margagliano on Thursday, May 28, 2020 at 3:08 PM
By Danny Margagliano / May 28, 2020
Comment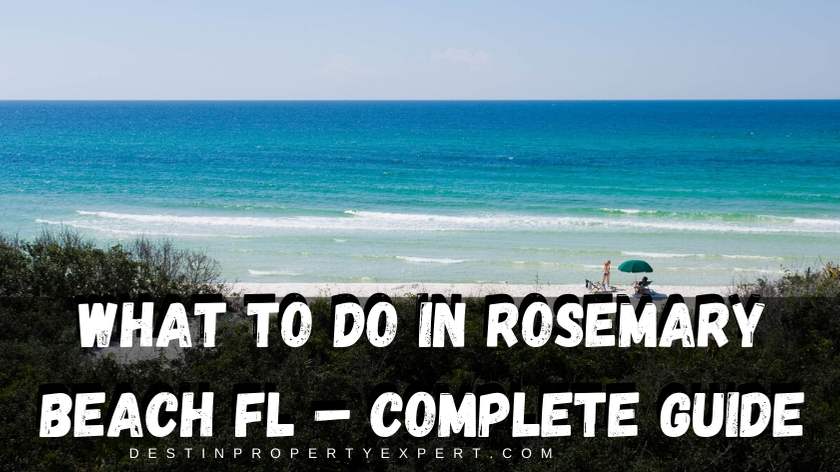 When planning a vacation to Florida, most people don't immediately think of the northern part of the state. It's a travesty! Northern Florida is one of the most underrated vacation destinations in the state, with more temperate weather, less humidity, and none of the sweaty crowds that you'll find in the more popular vacation spots.
On the Gulf of Mexico, smack dab in the middle of this underappreciated vacation spot is the cozy little community of Rosemary Beach. This little North Florida haven has it all; white sand beaches, crystal clear azure water, and a charming downtown area with dozens of fun things to see and do. It's one of the best places to buy waterfront property, too! When visiting Rosemary Beach, you also be close to other gorgeous communities like Seaside and Watersound.
If you're thinking of taking a vacation south of the Florida-Georgia line, you must check out this town before finalizing your plans. You'd be doing yourself a disservice if you didn't! In this list, we're going to take a look at some of the things you can see and do in Rosemary Beach: read on to find out everything it has to offer!

Dining in Rosemary Beach & More
If you like fine dining, then Rosemary Beach is the place for you. With over seventeen sumptuous restaurants to choose from, this is undoubtedly the place to be when it comes to fine dining. From opulent Italian kitchens to slick, modern sushi restaurants, these all share one common characteristic: they're all delicious! Let's look at some of the restaurants in Rosemary Beach, FL, and what they offer!
For starters, why not go for something warm and welcoming, with food that will remind you of the good times you enjoyed back home? If this sounds appealing, then you'll love the Summer Kitchen Cafe! With sumptuous southern dishes and all-time American favorites, this restaurant is sure to be a hit with any and all alike.
Fancy a finer touch, with a healthy helping of a laid-back beach feel on the side? Then the Restaurant Paradis is the place for you! This breezy seafood and steak restaurant offers delicious food and a relaxed patio dining experience, served up with modern, stylish service and presentation. When you're dining at the Restaurant Paradis, one thing is for sure: you'll feel like you're in your own little paradise!
If you're in the mood for something a bit lighter, then La Crema Tapas is the only logical choice. The restaurant takes its name from Spanish tapas, or small plates of food that are meant to allow one to sample more than one dish at a time. At La Crema Tapas, you can sample a wide variety of these light dishes, followed up with their delicious chocolates, which are made in-house daily!
Want to round off your dining experience with something a bit sweeter? Then head on down to the Donut Hole! This sumptuous little delicatessen offers a wide variety of donuts, freshly prepared sandwiches served with freshly ground coffee, and a long list of other hot and cold beverages. It's a wondrous place; you can't miss it! The doughnut hole is located in Inlet Beach, although it is only about 1 mile from Town Center.
Although coffee is the main item on the menu, you can fill your belly with some scrumptious delights at Amavida CoffeeOn N. Barrett Sq. You can grab a breakfast sandwich, croissant, or a tasty pastry. But when visiting this 30a coffee shop, try one of their signature blends for a quick pick-me-up.
Weekly treats at the 30a farmers market at Rosemary Beach
Grab your shopping bags and head out to the popular 30A Farmer's Market on a Sunday morning. The market is open from 9 am to 1 pm on Sundays throughout the year. For the best selection, you'll want to be at the market close to its 9:00 opening. The products that seem to sell off the fastest are the locally-grown fruits and vegetables.
The 30A Farmer's Market offers much more than fresh produce. You will find an assortment of home-made goods, including (but not limited to) baked goods, jams, dips, assorted nut treats, granola, crabcakes, sunscreens, and soaps You can bring your appetite to the Rosemary Beach farmers market. Many of the booths offer ready-to-eat food such as Greek pastries, cupcakes, southern-style grits, and more.
Shopping in Rosemary Beach
After you're done with dinner, you might enjoy stopping by one of the fine stores and boutiques that Rosemary Beach is home to. From fashion boutiques where you can pick up garments from premier designers and brands to vibrant health and beauty stores stocked with nutritious, responsibly sourced food and handmade goods and crafts, there's a little something for everyone here!
Most of these charming shops and stores are located in downtown Rosemary Beach, one of the most vibrant and beautiful central locations in any Floridian city! With immaculate sidewalks shaded by towering palm trees, this area is perfect for a relaxing evening walk with a friend or romantic partner, making it an attraction all its own!
Shopping for Art
In an area as gorgeous as Rosemary Beach Florida you would expect to have excellent artists drawn to his beauty. Stop by a few of the local art galleries and you will quickly realize that there is no lack of talent when it comes to artistry in this small community.
Sea Contemporary Art Space
For contemporary art, head to the Sea Contemporary Art Space. You'll find paintings, textiles, sculptures, and mixed media creations by national and international artists.
Curate Art Gallery (Curate)
If more traditional art is what interests you, head over to Curate. This is a relatively new art gallery that is in collaboration with Vinings Gallery in Atlanta, Georgia. The same man, Gary Handler, founded the galleries. Gary is one of the country's leading art consultants and artist representatives. He is also the owner of Curate. Gary has selected original paintings, sculpture, and mixed media from nationally recognized and emerging artists to display in the Curate Art Gallery. If you are wishing to learn more about collecting fine art, the team at Curate will be happy to teach you. You may also want to attend one of Curate's exclusive shows or live painting performances.
Beaches in Rosemary Beach
With a name like Rosemary Beach, you'd expect this place to have some pretty nice beaches. But it's beaches are more than just "nice"; they're exceptional! With miles of immaculate white sand bordered on one side by the crystal clear waters of the Gulf of Mexico and on the other by charming beach villas and condos, words fall short when describing how picture perfect these beaches are!
These are not your typical beaches. While many beaches in Florida can boast an acceptable number of good qualities, few other beaches in Florida can compare to those that you'll find in Rosemary Beach. The immaculate white sand is cleaned regularly, and the water has a crystalline clarity that is unmatched by the vast majority of Florida beaches; there are few other places like them!
Pools and Parks
While the beaches in Rosemary Beach are certainly exceptional, you can hardly spend all your time on the beach. Think of the sunburn you'd get! For a change of pace from its beautiful beaches, Rosemary Beach boasts a number of sparkling, state of the art community pools where you can swim and splash to your heart's content.
If you swim competitively and want to make sure you don't want to lose your gains while on vacation, the Sky Pool is the place for you. With three individual swimming lanes that span its entire length, you'll have no trouble doing your sets just like you would at your pool back home. What's more, the pool is covered with a retractable roof, which can be closed or opened depending on the weather. Whatever the temperature outside, you'll swim in style!
For families with kids, there are also three other immaculate pools available for use by guests and residents, where you can bring the whole family for an afternoon of fun in the pool. All of these luxurious pools look out over breathtaking vistas provided by the Gulf of Mexico or the community's beautiful parks.
Then there is the wide selection of parks and green spaces scattered throughout the community of Rosemary Beach. These parks and green spaces are beautifully landscaped and kept in excellent shape for use by residents and guests and make great places for picnic lunches, lawn games, or a relaxing nap in the sun.
Camp Helen State Park
Camp Helen State Park is on a peninsula and is bordered by Lake Powell, one of the largest coastal dune lakes in Florida, and the Gulf of Mexico. It is a day-use park with a crystal white sand beach that is generally quiet. Both Lake Powell and the Gulf offer great spots for fishing and kayaking.
The park's 180-acres offer many spaces for observing birds and wildlife. If you happen to leave your binoculars at home, you can borrow a pair from the Visitor Center. You'll need them as you search for Bald Eagles, Osprey, Kingfishers, and Cooper's Hawks in addition to the migratory birds that make their temporary homes in Camp Helen State Park.
On the shore, you can find Least Terns and Piping and Snowy Plovers (birds that live at the shore). As you walk along the Oak Canopy Trail, keep your eyes open for whitetail deer, squirrels, opossums, and the occasional black bear. The Oak Canopy Trail offers you the experience of walking under a dense canopy of maritime hammock, as well as spots to stop and take in the salt marsh along the way.
Camp Helen State Park is also a treasure for history buffs. From 1945-1987, the property was a company resort for employees of Avondale Mills, an Alabama textile mill. The Historical District is registered on the National Register of Historic Places. You can step back into the past as you view the water tower, rainbow cottages, duplexes, lodge, and recreation hall. Going back much further in time, you can see the mounds and middens (trash heaps) from human habitation that archaeologists believe are more than 4,000 years old. Interpretive signs along the path explain the history behind the sights.
Conclusion
With all these things going for it, there's little question that Rosemary Beach is not just a great place to visit; it's a great place to live. Whatever your tastes and preferences, whatever your temperament, you can't help but enjoy a trip to Rosemary Beach. If you spend more than a couple of days in this undeniably charming community, then there's a good chance you might find yourself taken by a desire to move here!
If this urge strikes you and you decide you want to make this community your new home, you've made a great choice; this is one of the most attractive communities in the state! Moving forward, you'll want to get in touch with one of the top real estate agents in Rosemary Beach. These experienced, knowledgeable real estate professionals will help you find the perfect home for you, at the lowest price possible. Before you know it, Rosemary Beach might just be your new home! Did you enjoy this article? Want to leave some feedback, or ask a question? Feel free to leave us a comment in the comments section below! We do our best to respond to each and every comment we receive and yours is no different. Enjoy Rosemary