What to Look for When Buying Investment Vacation Property
Posted by Danny Margagliano on Thursday, June 18, 2020 at 11:01 AM
By Danny Margagliano / June 18, 2020
Comment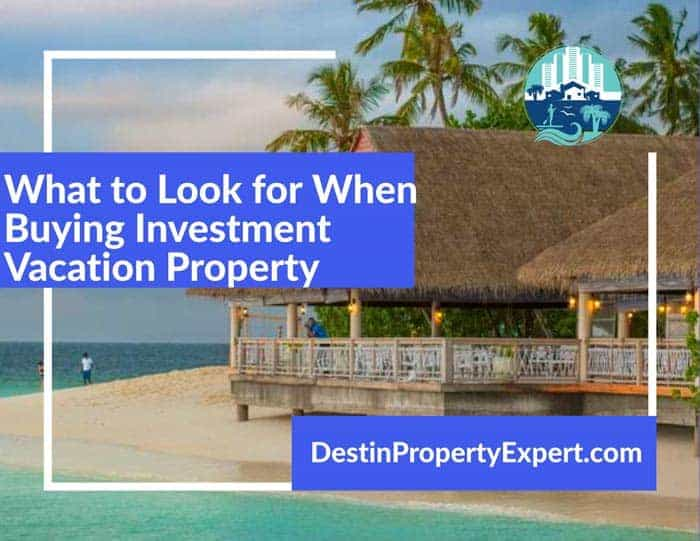 You are considering buying your first investment vacation rental property in a hot tourist area of your choice. Now it's time to start searching online for tips and available vacation properties for sale. Here are some key considerations to evaluate as you compare properties and make your big decision.
Don't Bite Off More Than You Can Chew
As an owner of an investment vacation property, there'll be a lot you must learn. Since it'll be a process that takes experience, as well as time, get yourself ready to make mistakes. Hopefully, with plenty of preparation, the mistakes that you make will not be costly.
Staying Within Your budget
Purchasing an investment vacation home or condo can get pretty exciting. Make sure not to get caught up in the emotions of things too much. You will want to be analytical and be crunching numbers at every turn. Do not try to buy penthouse condo when it is out of your budget just because you think it may have a better return on investment. The penthouse may have a better earning potential, but it also has a more substantial potential downside.
Furthermore, consider investing in an established vacation condo building that includes property management and booking services automatically. You may find that these types of buildings will have a lot of competition and potentially not as much of a return on investment. The flip side of things is that well-established vacation rental buildings are very stable. Thus, making for an excellent first-time vacation rental purchase.
Evaluate Vacancy Rate of the Area
In addition to scouring public listings to determine the rent, you will charge to take a look at the number of available listings at any given time. Most booking sites will show the properties calendar and give you an idea of how often throughout the year they are booked. Ideally, if you work with a property manager, they will provide you with extremely accurate estimations of how many weeks or months you can expect to have bookings. Watch for trends: Is there a lack of 3 bedroom rentals, but when they do pop up, they are booked quickly? You may have identified a demand for 3 bedroom rentals.
Look for too many available properties which may mean over-saturation of the market. An over-saturated market may be indicative of a less desirable community.
Don't Overlook These Budgeting Considerations
You have likely already been considering covering the mortgage of the new investment. What about all of the other month-to-month costs? Here are some common expenses to factor:
Repairs: significant repairs such as roof and air conditioning can come at any time.
Maintenance: this is beyond cleaning between guests. Also consider removing snow from sidewalks, cleaning common spaces, trimming the grass, changing light bulbs, replacing kitchenware, replacing linens, and so on.
Furnishings: unless you are buying a property that is already being rented out, you'll be buying a house full of furniture, kitchenware, rugs, tv's, lighting, bath décor, artwork, linens.
Insurance: your company may charge a different rate for short term rental property
Taxes: check to see if your city or state charges lodging, sales tax, and any short-term rental fees or licenses.
Utilities: estimate high as vacationers will run A/C or heat less efficiently.
Property management services: if you are not managing the property yourself, budget 20-30% for the typical management companies charge between 10% and 15% for long-term rentals and between 20% and 25% short-term. These figures can be higher or lower, depending on your location in the country.
Listing and marketing expenses: include photography, listing fees if you use a service such as VRBO, printing costs, sign costs, credit card fees.
Cancellations and vacancies: estimate high vacancy rates as it takes a few years to build up repeat clientele.
Supplies: are you supplying toilet paper, coffee, paper towels? Things like linens and cleaning supplies can add up quickly.
Look For Features Popular To Vacation
Location in a popular tourist area is the main factor. But beyond that, some features typically draw vacationers' attention. Identify how many of these features the property you're considering has.
Tourist Activities Nearby
Walkable neighborhoods or near public transportation
Vacation amenities like hot tubs, pools, saunas, fireplaces
Community swimming pools and playgrounds
Availability of golf courses, tennis courts, basketball courts, etc.
Pet-friendly location
Safe neighborhoods
Grocery or convenience stores walking distance
Ensure You Are Equipped For Any Major Renovations
Unless you are a handyman or contractor, avoid a property that requires substantial repairs or might require too much routine maintenance. If your budget for renovations is high, this is the number one reason that budgets spiral out of control. Be careful of properties that already have tenants in place Or future vacation rental bookings. In these cases, you may be required to honor the existing lease or bookings.
However, buying a rental property is a popular investment with individuals who are skilled at renovations, and for a good reason. If you can perform the improvements yourself, the savings can be substantial, even 50% less than using contractors. Bidding on a property that needs work will be less competitive as well. Be sure to budget the loss of rental income during the time that renovations will be taking place.
It Is All About Teamwork
No matter what Investment vacation rental property you wind up buying, you want to ensure that you have an outstanding team behind you that supports the process. There is an abundance of professionals who can help you with all aspects of locating the property to financing it to performing the upkeep. In most cases, if you find one of the best realtors in the area to work with, they will have many of these contacts lined up. You will spend some substantial time as a property manager building relationships with lenders, leasing agents, contractors, accountants, and attorneys. This contact list will become very valuable. Track all the folks who helped you with the property because they'll become your main assets over time.
Additional real estate resources
Bill Gassett tells in this article, all about the pros and cons of buying a vacation property as an investment.
Joy Bender goes over many different aspects of investment property in her latest article.
Jeff Nelson talks about things to consider when buying a 2nd home in a vacation resort area.