What Type Of Sellers Use A Flat Fee MLS Service
Posted by Danny Margagliano on Thursday, July 30, 2020 at 2:00 PM
By Danny Margagliano / July 30, 2020
Comment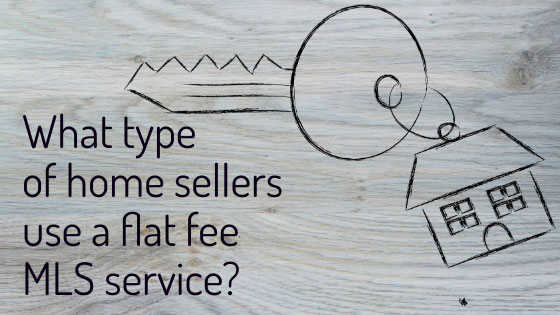 Selling a home is something that millions of Americans do each year. Many do it because they are moving, some because they need more space and others simply because they desire a change of pace. While selling a home is quite common, the process is generally far from easy.
The home-selling process can be full of difficult tasks and requirements, from creating a listing to showing the home, making potential renovations, and several other things. Thankfully, some things can help make selling a home much easier and more enjoyable for everyone involved. A good example of this is a flat fee MLS service. But just what type of seller will use this service, and is it right for you?
Well, if that's something you're curious about, you're in luck. This article is going to take a closer look at the types of sellers that will use a flat fee MLS service when selling their home.
However, before we can take a look at that, we need to learn what a flat fee MLS service is. Let's start by looking at a standard MLS first. MLS stands for multiple listing services, and it is a database of property and home information that is established and maintained by many real estate agents and brokers. It can only be accessed by members in most cases and will include information like square footage, photos, features of homes, and other important details.
While these people are all in competition with another, they can also benefit from sharing information. These services are all about connecting buyers and sellers, and making the home-selling process much simpler for everyone involved. These services are great for both selling and buying agents. It can get more traffic to the home of a seller, and also provide more options for buyers. Cooperation while completing can certainly have some great results for everyone.
As normal, when most sellers use an MLS service, they will end up paying a portion of the sale price to their agent or broker in the form of a commission. The percentage can differ on a case to case basis, but can normally be around 6%.
A flat fee MLS service in particular is one in which the seller will pay the agent or broker an agreed-upon flat fee, instead of a percentage-based commission. These will typically not require the seller to use all of the services, and will instead help the seller by listing the property in several different places to attract more potential buyers. There are also companies that you can work with to get your home listed in multiple places, without having to work with a selling agent. As you could imagine, this can save you a lot of money.
What Type of Sellers Use a Flat Fee MLS Service?
Now that you're aware of what a flat fee MLS service is and the benefits it provides, what type of sellers use a flat fee MLS service? Well, if a seller wants to sell on their own, but still get decent marketing for their home, using a flat fee MLS service makes a ton of sense.
For a relatively small fee, you can instantly get your home listed in many different locations simply by providing a few details on your home, such as the features, information, and photos. These flat fee MLS services will often charge only a few hundred, compared to the multiple thousand that many buyers will pay in real estate commissions.
Also, some sellers are uncomfortable dealing with a percentage commission, as it can be difficult to prepare ahead of time and budget. A flat fee service has a static cost and one that you can plan to make sure you can afford. A flat fee service is also great for sellers who want to have and maintain more control over the process of selling their home.
Negatives to using a flat fee MLS service
Your home may not sell for as much money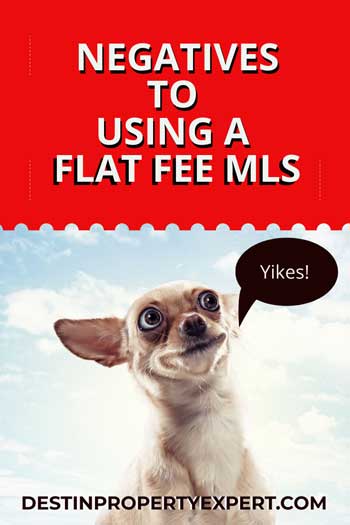 One of the main benefits of using a real estate agent is that they are doing every day. Realtors negotiation skills when it comes to selling a home will be superior to someone that is doing it for the first time or once in a while. Having a seasoned and trained realtor negotiate the final sale price can ultimately lead to a higher sold price. You may save some money in commissions but could easily lose it on negotiations.
It may take longer to sell a home with a flat fee MLS service
If you've ever heard the expression time is money then it will make sense when selling a home faster can equate to more money in your pocket. The objective when selling a home is to sell for the most money, and the least amount of time, and with the least amount of hassle. Full-time real estate agents strive to do all 3 of these. With a larger pool of buyers to market to, a realtor is a better chance of selling your home quicker. This can also mean that you will get to your desired destination faster.
You will have to handle marketing and scheduling showings
If you don't have plenty of time to be fielding phone calls from potential buyers and/or real estate agents then a flat fee MLS service may not be for you. You need to expect to have your phone ringing with people wanting to schedule showings and asking questions. If you're not able to pick up the phone and miss these calls you may miss your potential buyer. The next part you'll have to worry about is scheduling showings with the buyers and realtors.
Although, you may be able to sell your house by listing on MLS and doing nothing else it's unlikely you will get the best results that way. Marketing your home in local newspapers and magazines as well as Facebook, Google Adwords and more are a few ways realtors get more exposure to their listings.
Writing and preparing contracts
There are dozens of contracts and addendums to choose from when selling a house. You must become familiar with and know which contracts to use in each possible circumstance. You will need to feel that you can get an understanding of the correct documents and contracts to make sure that you are protecting yourself when selling. Realtors take specific classes just on these contracts. Although, you can get advice from a real estate attorney if you're using a flat fee MLS service.
In conclusion
While certain sellers might be more likely to use a flat fee MLS service, any seller can take advantage of their benefits. We hope this article helped you not only learn which sellers use a flat fee MLS service but also more about what a flat fee MLS service is. It comes down to how comfortable you are handling certain aspects of the sale yourself. If you're willing to do some of the legwork and handle additional tasks than the flat fee MLS service could be good for you. If you don't want to get involved in the sale and need everything done for you in getting a full-service realtor may be more your style.
Additional real estate resources
Debbie Drummond has published a great article talking about whether flat fee MLS listings are worth it. Debbie discusses several different considerations to think about before listing with a flat fee MLS.
Bill Gassett has put together a lengthy article discussing the pros and cons of a flat fee MLS service. As with just about anything in life there are two sides to a story. The same goes for whether to use a full-service realtor or a flat fee MLS.
John Cunningham has written a comprehensive guide for anyone thinking of selling by owner. It takes a certain kind of person to be willing to sell their home without a realtor. Find out how to do it in John's post.
Sharon Paxton is written excellent article going over what to expect when selling FSBO. The better prepared you are when taking the horns and selling your house on your own the fewer chances for legal issues and for having the deal fall apart.
Kevin Vitali tells readers what is the largest hurdles FSBO's have to overcome. In Kevin's article, he discusses everything from commissions to showing homes.