When Should You Sell Your House As-Is?
Posted by Danny Margagliano on Tuesday, July 27, 2021 at 11:53 AM
By Danny Margagliano / July 27, 2021
Comment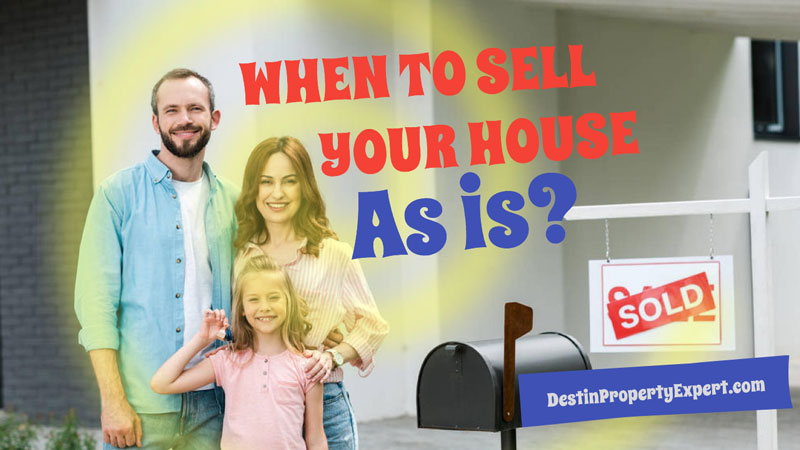 The prospect of selling a house as-is seems appealing as sellers can make a quick sale without putting in much work. After listing the property as-is, they wait shortly for buyers who will take the home in its current state. They don't have to worry about the hefty costs often linked with marketing a home.
For many, selling their property as-is means getting rid of the waiting game and expenses that come with traditional home-selling. It allows them to get cash in hand and make decisions about their new home without further delay. But many sellers fail to consider some crucial factors that go into selling a house in its current conditions.
To help you figure out if it's right for you, know when sellers should decide to sell their house as-is.
When You're In A Seller's Market
The state of the real estate market can significantly affect the outcome of a home for sale. But the problem is, only a few think about the market's condition when deciding to sell or buy a house. This could be attributed to how people view their homes. Because for most buyers and sellers, their house is more of a place to live than an investment.
It's hard to decide whether you should sell your home as-is or invest in repairs. But understanding the state of the housing market in your area is a good place to start. It's always worth remembering that there are good and bad times to sell.
There are more buyers in a seller's market than houses available to buy. That means you can get multiple offers and make a sale fast. Buyers might also be inclined to purchase a home in any condition since there are few options to choose from. Thus, if you are in this kind of market, it could be wise to consider selling your house as-is.
When The House Is In Disrepair
The condition of your house is another critical factor to look into. In most cases, a house in disrepair is a prime prospect for an as-is sale. It's because investing money into significant repairs may cost you more than what they return in market value.
Therefore, if you think the house can't be easily or economically fixed, selling it as-is could be a smart move. It makes sense to cut your losses and maximize what you can get from the house by selling as-is.
When There's No Fund For Repairs
Some repairs and upgrades may increase the value of your home. For example, you can add over $18,000 to your home's worth if you do a minor kitchen remodel. But perhaps, you're going through a tight financial situation and don't have a fund to conduct even minor repairs.
If that's the case, selling your house as-is might be your best option. As long as you find the right buyer, you can sell your house even without spending money on repairs.
When You Need A Quick Cash Offer
Putting your house on the market traditionally could bring offers higher than what you can get from selling as-is. It's because buyers rarely pay anywhere close to the market value when you're selling the house in its current state. So if your house has serious defects, you're most likely to get low-ball offers.
But the upside is, you can get a quick cash offer since many buyers buy up properties in as-is condition. So despite the low price, selling as-is might still be worth looking into. That is if you need immediate funds to settle debts, cover large emergency expenses, or buy another property.
When You Have To Relocate
Making repairs or improvements to your home can be time-consuming. So you most likely have to wait longer until everything is complete before you can start listing your home. But all the while, there's no assurance that you'll get the best deal and sell your house right away.
Note that going through a traditional home sale would take a lot of time, patience, and even money. But it could get more complicated if you have to move or transfer location for a job. In such a case, selling your house as-is would be a better alternative over doing long-distance rental and renovation work.
How To Sell A House In As-Is Condition?
There are different ways to sell a house in as-is condition. But the best one depends on what you want to achieve in a home sale. Nevertheless, bear in mind that each option comes with both benefits and downsides. So make sure to do your research and choose the one that will work well in your situation.
Selling As-Is With A Cash Buyer
You can make a sale in a cash buyer off-market where many investors are looking to buy an as-is home. With a cash buyer, you can spare yourself from lengthy negotiations. But to get the highest possible offer, make sure to check out a reliable real estate marketplace like Sundae.
Selling As-Is By Auction
Home auction is another way to sell your house as-is and get the best possible value. There's a wide selection of bidders who are searching to buy a home fast, make repairs and sell it profitably. But though this will help you successfully sell your home, you'll be paying considerable costs to the auction house.
Selling As-Is Through A Realtor
You can also sell your house in the as-is condition through a realtor. Note that real estate professionals have an exclusive multiple listing service. This will give you access to the limited number of buyers interested in purchasing an as-is property. However, it's worth pointing out that their commission is generally 4-6%. That's a lot of money to give up when you're selling a home as-is. But when selling with a realtor you will typically end up with a higher sales price than selling on your own.
Essential Reminders When Selling As-Is
Selling a house as-is doesn't entirely mean getting out of jail free card. But if it's done right, the whole process can be made easier for both the seller and buyer. So, take a look at the following essential reminders when you're selling an as-is home.
Disclose Any Significant Issues
It's essential to be upfront about the home's actual condition even when you're selling as-is. Whether it's a roof leaking or plumbing not working, buyers have the right to know. But remember that there are different laws in terms of disclosures. Thus, ensure to know what you're legally obligated to disclose by your state.
Do A Home Inspection Before Listing
To avoid having problems with your state's disclosure laws, it's vital to have your home inspected before listing. This will give you an idea of what's wrong with the property and the estimated costs to repair it.
Set A Reasonable Price
When setting the price for your home, make sure you account for all the work needed to fix it. That means you should factor into the price any significant repair or improvement that you're not willing to make. But bear in mind that pricing your house too low or too high can either scare off buyers. Thus, it's best to consult with a real estate professional to help you set a reasonable price.
Keep Your Eyes Open
Selling your house as-is sounds simple but it can also get tricky if you don't know what you're getting into. Before deciding on anything, take the time to understand the real estate climate and the value of your property. As much as possible, keep your eyes open to all the factors that can affect your home sale.
Additional real estate resources
Find out from Joe Boylan what all you need to know about selling your house as-is.
Learn from Sharon Paxson the pros and cons of selling a home as-is.
Get all the info and benefits of selling your house as-is from Alex Capozzolo.
Paul Sian will tell you how to sell your house fast and if selling as-is will help.