Why America has Ditched Homeownership to Become a Nation of Renters
Posted by Danny Margagliano on Tuesday, June 9, 2020 at 9:02 PM
By Danny Margagliano / June 9, 2020
Comment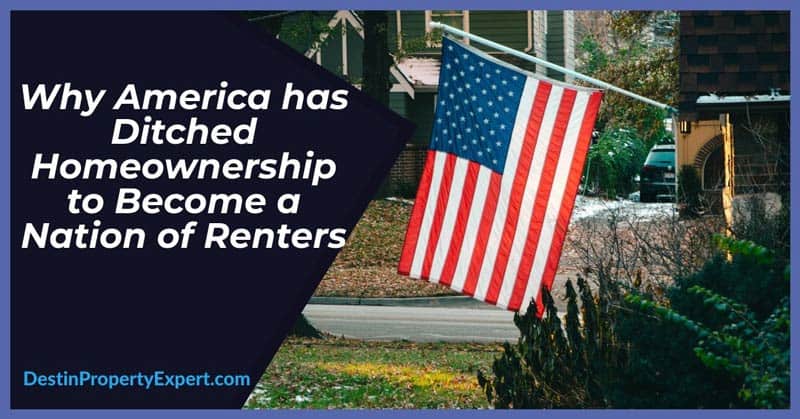 The percentage of American homeowners has dropped dramatically since before the 2008 economic crisis, from 69 to 64 percent. This may not seem like a huge decline, but it indicates there are 7.3 million more households renting today than a decade ago.
In fact, American homeownership is actually at its lowest rate since 1965, after it plunged again three years ago. So, why are Americans switching from homeownership to renting, and why is a similar phenomenon happening in the UK? Let's look into the topic in a little more detail.
Owning your home can cost more
At first glance, it might seem that the (not so simple) act of buying a house represents an end to the rent cycle. No more paying a landlord for the roof over your head; now you've got a home that will someday belong to you!
This might have been somewhat true in simpler days but now, homeowners aren't only paying for the costs associated with purchasing their homes. They're paying for more extras than ever – especially if they're a condo owner. HOA fees can be pricey, maintenance costs more, and essential budget items including taxes and homeowner's insurance cost a pretty penny.
Renters are often at an advantage so far as expenses are concerned. Many do spring for renter's insurance but for the most part, landlords pick up the tab for everything else. When you're renting, you're typically not responsible for water, sewage, or garbage, although you're probably responsible for electricity, gas, TV, and internet.
Landlords cover costs associated with maintenance – and they pay for upgrades, as well. They're ultimately responsible for insuring their property against serious disasters; renter's insurance only covers the tenant's belongings. This is just the tip of the iceberg. Bottom line is, if there's a cost that hasn't been directly incurred by the tenant or that isn't outlined as their responsibility in the lease, it's probably going to be the landlord who picks up the tab.
Home ownership might limit flexibility
Let's face it: Most homeowners have only one home, and they work very hard to cover the costs associated with home ownership. When you're a homeowner – particularly one with a long list of wants and needs for your property in terms of maintenance and updating – you're likely to take staycations instead of heading for the lake, the mountains, or the beach.
Find Rentals explains, "Renters don't have those concerns. When you're a renter – particularly one without a pet or lots of thirsty houseplants – you can simply pack your bags and head off for fun weekends and longer vacations."
Not only can renters make the world their playground during their time off, but they're also free to move to a different home almost any time, so long as they stick to the confines of their rental agreement.
That might mean staying in the same complex and moving to a nearby apartment with a better view. It could mean heading for a duplex or single-family home on the other side of town. Maybe it means moving across the country without worrying about selling a home first; after all, long-distance moves are easier than ever since it's often possible to work from anywhere with a good internet connection.
With perks like these, it's easy to see why so many people are leaving home ownership behind in favor of renting.
Uncertain times can foster growth
People who matured during recession eras witnessed – and were likely impacted by – the fear, uncertainty, and devastation that happens when homeowners can't pay their mortgages and must let their homes return to the bank. It's a worst-case scenario that nobody likes to think about – but for many younger people, it's one they're not willing to live through again.
Despite the many benefits of owning a home, many individuals perceive homeownership as a liability. It's one more reason why many Americans and UK citizens prefer to rent.
Current and prospective landlords clearly benefit when others choose to rent rather than own their own homes. Renters rely on the service they provide, and plenty of properties are on the market. While not all homes are worth investing in, many others are suitable for use as long and short-term rentals, and plenty can be subdivided into apartments or flats.
Is it a good time to be a landlord?
While plenty of people in the US and throughout the UK choose to stick with the tradition of purchasing a home and settling in for the long term, people of all ages from varied backgrounds eagerly search for great rentals to call home temporarily.
Ask landlords in the US and UK about the challenges associated with owning rental properties, and you'll get similar answers. Taxes are increasing, laws are always changing, and rental homes don't repair and maintain themselves! More than a few landlords are feeling the pinch these days and leaving their businesses behind – even though a growing audience of consumers are ready and willing to pay a premium for a comfortable home with nice amenities.
The good news is, in the UK there are a growing number of online letting agents who are helping to reduce costs for landlords, and in America a large number of property management companies are offering online management software or services aimed at making life easier for landlords – at lower prices than many imagine. Services range from simple property maintenance to complete management; some companies even teaming up with tax and accountancy specialists who eliminate most of the headaches that can occur at tax time – and whenever legislative changes take place.
Final Thoughts
There's a lot to consider whether you're a consumer thinking about whether to rent or buy a home – or if you're a current or prospective landlord who's wondering where the world is headed. Either way, help is out there: Get together with a knowledgeable agent who can help you find the perfect home to rent or purchase, or who can be your steadfast partner as you navigate the ever-changing buy-to-let landscape. Whether you've got questions or if you're searching for a full concierge package, experts have you covered.