Why Buy a Vacation Rental in Destin?
Posted by Danny Margagliano on Saturday, February 25, 2023 at 11:08:19 AM
By Danny Margagliano / February 25, 2023
Comment
Destin is a beautiful coastal city in Florida, known for its white sandy beaches, emerald green waters, and warm sunny weather. Every year, millions of visitors come to Destin to enjoy its natural beauty and recreational opportunities. If you are thinking about investment opportunities in a vacation rental property, Destin is a great place to consider. In this article, we will discuss why purchasing a vacation rental in Destin could be a smart financial decision.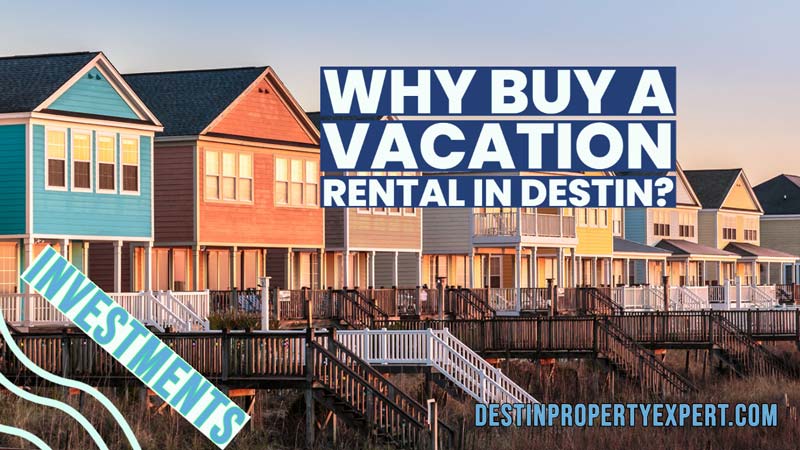 High Rental Income Potential
Destin is a popular tourist destination, attracting visitors from all over the world. As a result, there is a surge in demand for vacation rental properties in the area, especially during peak seasons. This means you can generate a substantial rental income from your property, making it a profitable investment.
Of course, you must identify a home or condo with a good annual rental income to purchase price ratio. Typically, a good rule of thumb is to try to find a property that does between 8% and 12% of the purchase price in annual rental income. For example, if you buy a home for $1 million, you typically want to see annual rental income somewhere in the ballpark of 80K to 120K. Additionally, Destin has a relatively low property tax rate, which can further increase your net income.
Favorable Market Conditions
The real estate market in Destin is currently in a healthy state, with property values steadily increasing over time. This means that if you purchase a vacation rental property in Destin now, its value is likely to appreciate over time, giving you a good return on investment if you decide to sell it in the future. Additionally, many property management companies in the area can help you manage your rental property, making it a hassle-free investment. Furthermore, the vast majority of people that vacation in the Destin area get here by car. Because of this, Destin vacation rentals do not slow down too much, even during down financial times.
Ideal Location
Destin is located on the Gulf of Mexico, making it a prime location for beachgoers and water sports enthusiasts. The city boasts over 24 miles of pristine beaches, which are major attractions. In addition, Destin is home to many recreational activities, including fishing, boating, golfing, and shopping. This means that your vacation rental property will be in high demand throughout the year, ensuring a steady rental income stream.
The area that Destin is located in is called the Emerald Coast of Florida. This name comes from the Emerald-colored Gulf of Mexico. People flock to the gorgeous white sand beaches from all over the world in summer. Many of the people vacationing in Destin will venture 15 minutes to the east to explore some of the luxury communities of Scenic 30a.
Tax Benefits
Purchasing a vacation rental property in Destin can also provide you with some significant tax benefits. For instance, you can deduct many of the expenses associated with owning and managing your rental property, such as property taxes, mortgage interest, repairs, and maintenance costs. Additionally, if you use your property for personal vacations for less than 14 days per year, you can still deduct your rental expenses, making it a smart financial move.
Asset Diversification
Investing in Destin vacation rentals is also a great way to diversify your portfolio. If you are looking for ways to spread your risk and minimize the impact of market fluctuations, investing in real estate can be an excellent option. This is because real estate investments are generally less volatile than other types of investments, providing a stable income stream that can help balance your overall portfolio.
Personal Use
One of the significant benefits of owning a vacation rental property in Destin is the ability to use it for personal vacations. If you purchase a vacation rental property in Destin, you can enjoy the property whenever you want, as long as you do not exceed the 14-day personal use limit. This means you can have a great vacation home that can generate income for you when you are not using it.
Appreciation Potential
Destin's real estate market has historically appreciated at a steady rate, making it an ideal location to profit from appreciation. In addition, the city's strong economy and growing population also provide a stable foundation for long-term appreciation potential. If you invest in a vacation rental property in Destin now, you could potentially see significant appreciation over time, increasing your net worth and providing a substantial return on investment.
A Variety of Property Options
Destin offers a diverse range of vacation rental properties, including beachfront condos, single-family homes, and townhouses. This means that you can choose a property that fits your budget and preferences while still having high rental income potential.
Stable demand
Destin's tourism industry has remained robust for many years, with a steady increase in visitor numbers. This means that there is a stable demand for vacation rental properties in the area, providing a reliable source of rental income.
Factor to consider for purchasing a vacation rental
Choose the right location
When purchasing a vacation rental property in Destin, it is essential to choose the right location. The best areas for vacation rental properties are typically those close to the beach or properties with stunning views of the water. Additionally, it is essential to consider the property's size, amenities, and overall condition. A well-maintained property with modern amenities and plenty of space will likely attract more renters and generate higher rental income.
Property Management
Another critical factor to consider when purchasing a vacation rental property in Destin is property management. Property management companies can help you handle all aspects of your vacation rental, from advertising and booking to maintenance and repairs. These companies can also help you maximize your rental income by providing insight into rental and occupancy rates and seasonal demand.
Understand the local rules and regulations
It is also essential to understand the local regulations and zoning laws when purchasing a vacation rental property in Destin. Many cities and counties have specific rules and restrictions on vacation rentals, such as occupancy limits, noise ordinances, and rental periods. Understanding these regulations can help you avoid fines and penalties and ensure that you operate your vacation rental property legally and ethically. Additionally, depending on the HOA covenants, some homes, and condos are restricted from renting for less than three, five, or seven days. You would want to ask Team Margagliano about this when finding the best property for you and your family.
Financial Plan
Finally, it is essential to have a solid financial plan in place when investing in a vacation rental property in Destin. When calculating your potential rental income, you must factor in expenses such as property taxes, insurance, mortgage payments, maintenance, and repairs. It is also crucial to have a plan in place for when the property is vacant, as you will need to cover these expenses without rental income during those periods. This is another service that Team Margagliano can assist you with.
We offer an in-depth investor analysis worksheet on potential properties are wires identified. The investor analysis covers all expenses and income give you your estimated annual return on investment. We then go one step further to calculate your estimated return on investment all the way through year 10. The final calculations offer a financial deep dive into what to expect after selling your vacation rental property.
Investment Goals
Before purchasing a vacation rental property, it is essential to determine your investment goals. Are you looking to generate passive income, create long-term wealth, or have a vacation home that can generate income? Understanding your investment goals can help you determine the type of property to purchase, the location, and the amenities required.
Competition
When investing in a vacation rental property, it is essential to research the competition in the area. You will want to ensure that your property stands out from the rest and offers unique features and amenities that other properties do not. This can help you attract renters and generate higher rental income.
Maintenance and Repairs
Owning a vacation rental property requires ongoing maintenance and repairs to keep the property in good condition and attract renters. It is essential to factor in these costs when calculating your potential rental income and have a plan for unexpected repairs.
Final Words
In conclusion, purchasing a vacation rental property in Destin can be a wise financial decision for many reasons. The city's high rental income potential, favorable market conditions, ideal location, tax benefits, asset diversification, personal use, and appreciation potential make it an attractive option for real estate investors. However, before making a purchase, it is essential to do your research and understand the local real estate market, rental regulations, and property management options. With proper planning and management, a vacation rental property in Destin can provide a stable income stream and long-term financial benefits.
About the authors:
The article above was written by Danny Margagliano and Mia Smith. Mia is a passionate author and a project coordinator at Sapphire Limousine, Toronto, who writes articles on niches like Party buses, Travelling, food, and many more.
Check out these short buyer resources videos!