8 Reasons Why People Are Moving to Panama City Beach when Retiring
Posted by Danny Margagliano on Thursday, July 20, 2023 at 4:10:53 PM
By Danny Margagliano / July 20, 2023
Comment
Retirement is a time of exploration, relaxation, and the pursuit of happiness. It provides an opportunity to pursue long-held dreams, travel to new destinations, spend quality time with loved ones, and engage in activities that bring joy and fulfillment.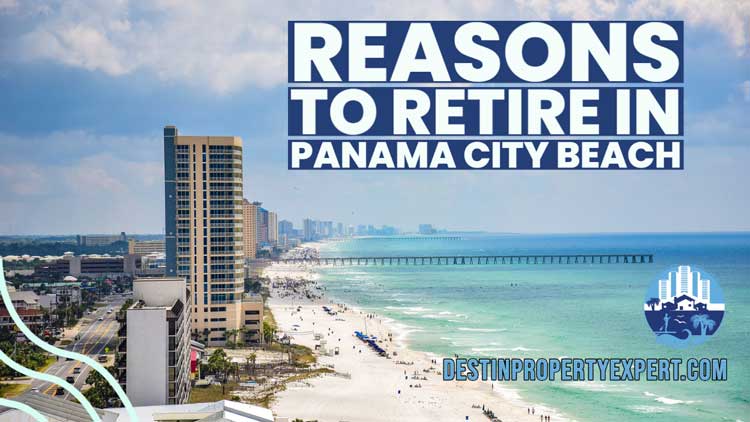 Panama City Beach, Florida, is a very enticing option for those seeking a picturesque coastal location with a vibrant community. With its pristine beaches, year-round warm weather, and an array of recreational activities, this charming city offers an ideal retirement destination. In this article, we will delve into the allure of retiring to Panama City Beach and explore the many reasons why it is a haven for retirees.
Idyllic Beach Lifestyle
Panama City Beach is synonymous with its stunning white sandy beaches and crystal-clear emerald waters. Retirees can savor the luxury of living in a condo and have a gorgeous beach just a stone's throw away. From peaceful morning strolls to indulging in water sports, such as swimming, snorkeling, and fishing, the beach provides endless opportunities for relaxation and rejuvenation.
Mild Climate
Florida is renowned for its year-round mild climate, and Panama City Beach is no exception. With an average of 320 days of sunshine per year, retirees can bask in the warmth and enjoy outdoor activities throughout all seasons. The pleasant climate allows for various hobbies, including golfing, tennis, and cycling, making it an ideal destination for active retirees.
Affordable Cost of Living
One of the primary advantages of retiring to Panama City Beach is the affordable cost of living. Compared to other coastal retirement destinations in Florida, such as Miami or Naples, Panama City Beach offers a more budget-friendly lifestyle. Housing costs, including home prices and property taxes, are relatively reasonable, allowing retirees to stretch their retirement savings further.
For those looking to downsize and enjoy the freedom of the renter lifestyle, apartments for rent in Panama City Beach are a great option. With various apartment and community amenities, retirees will surely find a place they love to live in. As a renter, you wouldn't have to worry about maintenance and other issues but rather enjoy convenient living in one of the many communities available.
Many people who are moving to Panama City Beach for the first time are thinking about buying a condo. A condominium can be suitable for a retiree because they don't have to worry about upkeep to the exterior, they get plenty of amenities, and they can live beachfront for an affordable price.
Ample Recreational Opportunities
Retirement should be a time of adventure and new experiences, and Panama City Beach provides plenty of opportunities. From boating and kayaking in St. Andrews State Park to exploring the scenic trails of Conservation Park, outdoor enthusiasts will immerse themselves in natural beauty. Moreover, the city boasts world-class golf courses, pristine parks, and a range of cultural events and festivals, ensuring there is always something to do for retirees with diverse interests.
Health Care Facilities
Access to quality healthcare is a vital consideration for retirees. Panama City Beach is home to several well-regarded medical facilities, including Gulf Coast Regional Medical Center and Sacred Heart Hospital. The presence of these healthcare institutions ensures retirees have access to comprehensive medical services and specialized care when needed.
Close-Knit Community
Retiring to Panama City Beach means joining a welcoming and close-knit community of retirees. The city offers a range of active adult communities and retirement villages, fostering a sense of camaraderie among like-minded individuals. Residents can engage in social clubs, hobby groups, and volunteer organizations, providing ample opportunities for friendship and a fulfilling social life.
Culinary Delights
Florida's culinary scene is renowned for its fresh seafood and diverse cuisine, and Panama City Beach is no exception. From waterfront seafood shacks to upscale dining establishments, retirees can embark on a gastronomic journey that tantalizes their taste buds. The city also hosts various food festivals and events where retirees can indulge in local delicacies and embrace the vibrant food culture.
Proximity to Attractions
Panama City Beach's central location offers easy access to numerous attractions and destinations. The vibrant city of Tallahassee, the state capital, is just a short drive away, providing cultural and entertainment opportunities. Additionally, retirees can explore the nearby scenic 30A coastal highway dotted with charming beach towns, art galleries, and boutiques.
Retiring to Panama City Beach, Florida, is an excellent choice for those seeking a coastal haven with a laid-back lifestyle, stunning beaches, and abundant recreational opportunities. With its mild climate, affordable cost of living, and welcoming community, this charming city offers retirees the chance to create a fulfilling and active retirement. Whether enjoying the beach, pursuing outdoor activities, or immersing in the local culture, retirees will find Panama City Beach an ideal destination for their golden years.