Why UK Investors Are Buying Properties in Florida
Posted by Danny Margagliano on Tuesday, February 7, 2023 at 11:02:39 AM
By Danny Margagliano / February 7, 2023
Comment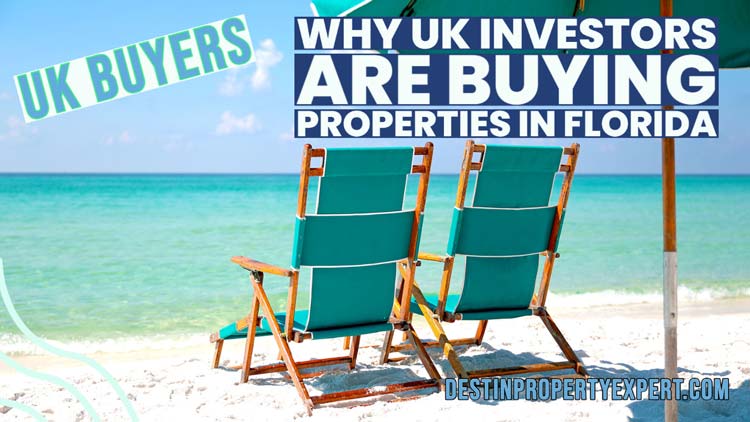 If you are a UK-based property investor seeking opportunities overseas, the state of Florida, USA, should be at the top of your list.
This region offers a great deal to foreign real estate specialists. The article below explores why so many UK investors succeed in the Sunshine State.
The Weather
Florida's wettest month is June, which typically sees rainfall of around 7.5 inches each year.
However, the state boasts very mild lows of 57°F / 14°C throughout winter, with summer highs reaching 88°F / 31°C.
Due to its comfortable climate - and easy access to the coastline in every direction but north - Florida is exceptionally popular with vacationers and tourists. According to visitflorida.org, the state saw approximately 122 million visitors in 2021 alone.
The Culture
Due to a rich influx of migrant settlers throughout the state's history, Florida benefits from a huge range of diverse influences - including Caribbean, Latin American, Jewish, and European.
Home to the Everglades National Park, Floridians also have access to a wealth of art and theater in Sarasota and the fascinating history of St Augustine.
Visitors to Tampa Bay enjoy the colorful mix of cosmopolitan and classic culture, while Miami is synonymous worldwide with party lifestyles and luxurious celebrity homes.
Florida also boasts major stadiums in Jacksonville, Tampa, and Miami. Baseball, football, horse racing and golf are just a few of the state's favorite sports.
The Activities
With an almost endless choice of golf courses scattered across the Sunshine State, it's little wonder that Florida is the dream destination of golfing enthusiasts worldwide. The golf courses in Destin are particularly popular.
There is plenty more to do in Florida besides golf. The region's leading tourist hotspots include:
Walt Disney World
Universal Studios
Sea World
Busch Gardens
Surrounded by an ocean on three sides, Florida also has sandy beaches galore, with plenty of opportunity for relaxation and watersports.
The Return on Investment
Due to the high number of tourists that head to Florida annually, there is a huge amount of money to be made in vacation rentals.
There is scope for a great many managed properties in Miami, Orlando, and Tampa, as well as the areas surrounding the state's golf resorts and leisure parks. This promises an excellent ROI, as homes of this kind can be rented to visitors throughout the summer months.
However, while Florida is clearly a magnet for tourists and house hunters alike, its popularity isn't the only benefit to potential real estate investors.
Along with the strong GBP to USD currency exchange in the state, property prices in the state are generally far more affordable than in the UK.
In December 2022, the average home in Orlando was available for just under $376,000, while in London, UK, the average property cost £666,507 (just over $821,400 at the time of writing) - this excludes the costs of selling.
The Simplicity
Towards the end of 2022, reports were finding that the average buyer was facing a wait of more than five months to complete the property purchase process in the UK.
By contrast, according to Zillow, once a buyer is under contract in Florida, it takes just 30-45 days to close.
Even better: there is no requirement for foreign nationals to hold any special visa to be able to purchase a property in Florida - making the process far smoother and affordable than in other territories.
How to Buy Property in Florida, USA
1. Find an Agent
To find a suitable property in Florida, you'll need to register with a suitable Buyer's Agent. That specialist will liaise with local Sellers' Agents and will then present you with a range of options.
Both the Buyer's Agent and the Seller's agent will be paid via a commission, which will be a percentage of the property's final sale price.
2. Get a Lawyer
It's also very important to ensure you have a good, independent, Florida-based lawyer to make sure everything goes smoothly in a legal capacity.
3. Attend Viewings
The more properties you can view in person, the better opportunity you will have to find the perfect house.
4. Make an Offer
If you decide to buy, you will need to instruct your agent to make your offer to the seller's agent. The seller may make a counteroffer, so be prepared to negotiate.
Of course, if you will be relying on a mortgage to purchase your property, this will need to be arranged - or at least pre-approved - before your offer is made.
5. Complete Paperwork and Checks
Your lawyer should then get to work to collect all relevant information regarding the property and to complete the required paperwork.
6. Contract and Escrow
Once you are ready to make an offer, it must be put in writing and signed by both the buyer and the seller.
The next step (escrow stage) is for the buyer to make their earnest money deposit (EMD) to the title company. The buyer typically has three days to make the EMD to the title company after both parties have signed.
7. Closing
Your sale will usually close after around 30 days. You will then be the legal owner of the property.
Your Visa
If you are a UK property investor wishing to stay in Florida for part of the year and to rent out your home for the rest, all you need is a B-2 visa.
This visitor visa permits the holder to stay in the US for up to six months of the year - meaning your property could function as a holiday for the other six.
As is clear from the above, investing in Florida property can be a very intelligent and lucrative move for any UK-based property investor - whether the plan is to live in the property part-time or to run it as a full-time buy-to-let.