Shoreline Towers condos for sale – Destin FL
Location: 900 Gulf Shore Drive, Destin, Florida 32541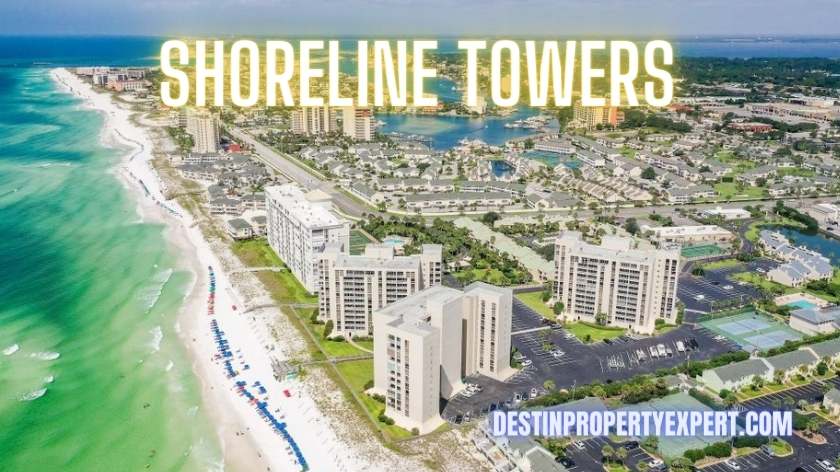 Staying at a vacation resort that overlooks parts of the Gulf of Mexico is a goal for many people. So why not buy a condo at a beautiful place like Shoreline Towers that will accomplish the goal?
About the condo buildings
Built in 1974, Shoreline Towers has an excellent reputation for providing fantastic hospitality and quick service when its staff is called upon. This resort stands 12 stories tall and has a total of 195 units available. This resort is divided into 3 separate buildings, one tucked away in the background while the other directly facing the beachfront.
Shoreline Towers is located at the beginning of Holiday Isle in Destin, FL. This location is truly superior to most other beachfront condos because it is centrally located close to the Destin Harbor, the beaches of Holiday Isle, and Highway 98.
Amenities at Shoreline Towers
Barbecue pit and grill areas
Fitness center
Pickleball court
Swimming pool
Tennis court
Steam room/sauna
For more information about any of the condos for sale at Shoreline Towers, call or text Team Margaglian at 850-613-0929.
Shoreline Towers Condos for Sale
September 22, 2023
Emerald Coast Featured Communities
One of the best features of Shoreline Towers is its direct access to the beach, but there are also many other things to do. Alongside the main central building are two outdoor tennis courts that are lighted in the evening. So, you can play tennis at almost any time. There is also a large, spacious community swimming pool that is surrounded by beach chairs. Some of these beach chairs have umbrellas that provide shade from the sun. After having fun outdoors, you can hang out with other condo owners in the nearby clubhouse, providing you with all the tennis equipment you need.
The historical significance of Shoreline Towers is a reminder of Destin's humble beginnings as a booming tourist destination. When it was built, Shoreline Towers was Destin's very first high-rise condominium, a structure that was not previously seen by local residents at the time. If you want to catch a glimpse of the condominium history, stop by Shoreline Towers. The condo is in a gated complex with security on-site.
2022/2022 special assessments
Not only is Shoreline Towers condo a beachfront complex, but it does also undergone enormous renovations in 2022/2023. They had one of the largest special assessments seen along the Emerald Coast of approximately $70,000 per condo unit. Although this was an enormous hit to each owner, the outcome has been a huge success. It's safe to say that any of the condo units at shoreline Towers have appreciated greater than the special assessment.
The renovations that have been done include repairing and resurfacing the sidewalks, interior stairwells, parking garages, and other areas of concrete throughout the complex. They also removed and replaced all of the windows and sliding glass doors throughout the buildings. They have fixed, sealed, and replaced all damaged stucco on the exterior of the condos. After these repairs were made day moved on to painting all of the walls, balconies, interior stairways, parking garages, and ceilings of any common areas. Finally, they waterproofed all the balconies.