Sterling Sands condos for sale in Destin, FL
Location: 1080 Highway 98 East, Destin, Florida 32541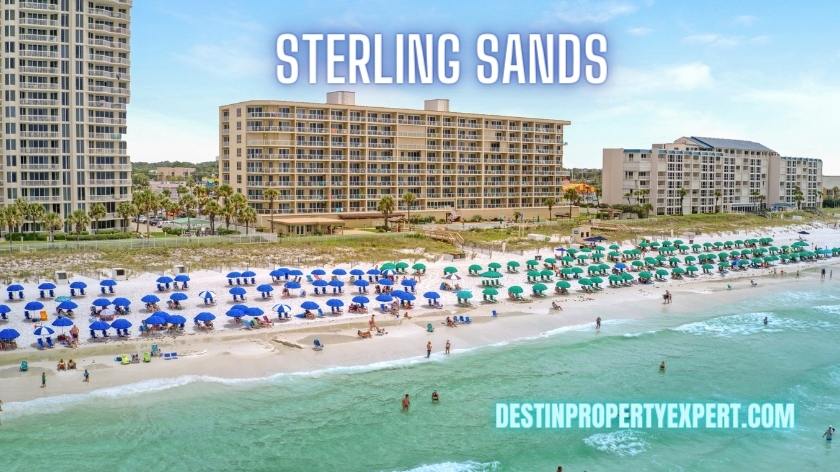 Sterling Sands Condo in Destin, FL is a wonderful beachfront condo standing only 8 stories off the ground. Large balconies off of the condo facing south offer the owners and guests some of the best views of the Destin beach and Gulf.
For those staying at Sterling Sands, the Gulf front pool and hot tub can be a good alternative to the beach or just another place to relax. The condos at Sterling Sands are all equipped with a full kitchen, washer and dryer, TVs, and other amenities and luxuries that you would expect on a first-class vacation.
Sterling Sands amenities
Swimming pool
Barbecue grills
Exercise room
Pavilion/gazebo
Hot tub
Community room
For more information on purchasing a condo at Sterling Sands in Destin, FL call Danny Margagliano at 850-830-4747.
Sterling Sands Condos for Sale
December 8, 2023
Neighborhood:
Sterling Sands Condo
Neighborhood:
Sterling Sands Condo
Neighborhood:
Sterling Sands Condo
Sterling Sands condo building info
Sterling Sands will serve as a good starting point if you seek a pleasant location that isn't far from fine dining and entertainment options. Built in 1995, Sterling Sands has an impressive architecture that is easily noticeable in the heart of Destin. Standing 8 floors tall, this resort has a total of 110 units available.
The common grounds at Sterling Sands
Having a gulf frontage of 400 feet, you will be close to the action on the beach as you will be helped by two separate boardwalks that connect to the beach. A large gulf-front swimming pool is available to all tenants, and it can be heated during the colder months of the year. Nearby is a barbecue grill area where multiple barbecue grills are offered for tenants throughout the day.
Your stay at Sterling Sands will be made comfortable with the help of a beachside snack bar that offers food and drinks whenever you need to take a break from fun activities like swimming, snorkeling, or surfing. Along with venturing out to the beach and being within walking distance of various amusements in Destin, Sterling Sands can be your go-to place to live comfortably and have fun.
Miramar Beach Featured Condos
Emerald Coast Featured Communities