Destin Beachfront Condos for Sale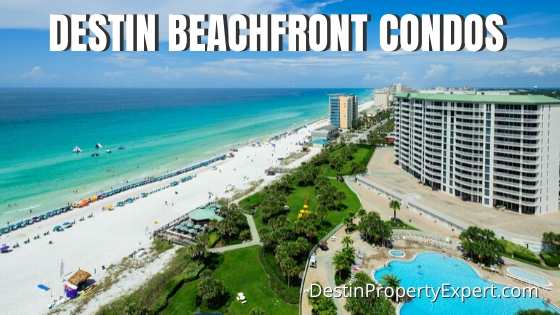 Destin beachfront condos for sale can be difficult to find. I am not saying that there aren't any, it is quite the contrary. With so many condos in Destin along our beautiful winding shorelines and emerald green Gulf of Mexico, the search for the perfect beachfront condo in Destin can be overwhelming.
Destin Florida beachfront condos for sale
Below I am going to break the Destin beachfront condos for sale into price range. If you have a specific beachfront condo in mind you may want to go directly to my advanced MLS search for Destin.
Area beachfront condos
Destin | Miramar Beach | 30a | Panama City Beach
If you want to browse some popular condos and get some more detailed information on them head over to the Destin condo page. There are literally hundreds of beachfront condos in Destin FL for sale and I will share with you some of the things to look for.
Destin beachfront condos for sale by price
Browse all Destin beachfront condos for sale
November 28, 2023
Browse all Destin beachfront condos for sale by Price
Browse all Destin Featured Condos
Emerald Coast Featured Communities

Beachfront condos in Destin have a wide range of HOA fees associated with them. It is important that you understand what you get for your monthly fees. Look into the amenities, maintenance, services, if they have deeded beach access, and always look at the reserves of the HOA.
Destin is such an amazing place not only to vacation but for some of us we call it home. There is so much to do within a few short miles. With shopping, fine dining, authentic small family-owned restaurants, and world-class fishing.
Investing in a Destin beachfront condo
For the most part, the vast majority of beachfront condos in Destin are used as vacation rental properties. They're owned by individuals typically that live outside of the Destin area. The most common owner buys a condo here because they want to rent it out for the majority of the year and also use it themselves a few weeks. This type of situation can make for a great real estate investment opportunity. Depending on how much you want to use the condo yourself after you purchase it will be a large factor in how much profit or return on investment the condo makes. The type of situation that was just explained is what Destin Property Expert team primarily focuses on with our customers.
Contact us for more information
The Destin area is home to Florida's most beautiful beach and the friendliest people you will come across. Whether you are buying a Destin beachfront condo for an investment property, a second home, primary residence, or retirement it is important to do your research. No matter what always work with a Destin Florida licensed Realtor. For any question, you may have or any local information you need call Danny Margagliano at 850-830-4747.