New construction homes for sale in the Northwest Florida Panhandle
Locations: 30a, Santa Rosa Beach, Freeport, Panama City Beach, Miramar Beach, Pensacola, Milton, Crestview, Lynn Haven, Destin Florida, and more.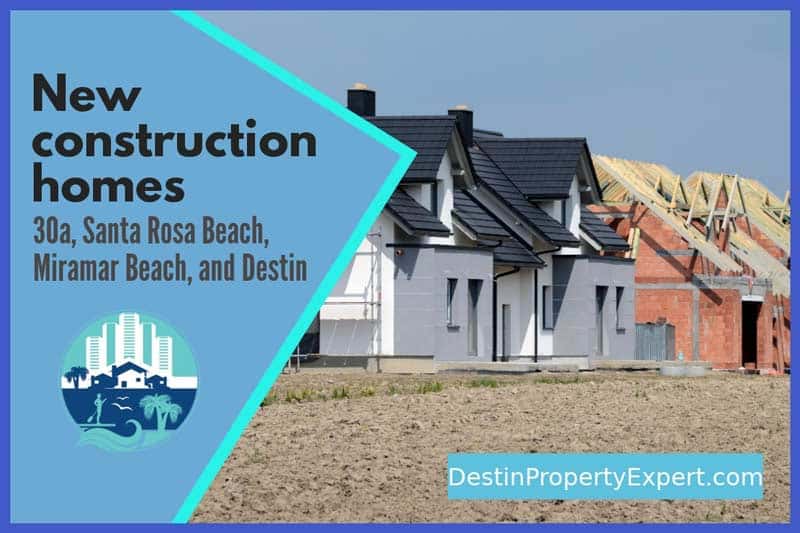 New construction in the beach communities of Destin and South Walton Beach, Florida has been booming since around 2013. There are new developments and subdivisions popping up all over. The most common place to find new construction development is either beachfront or on the north side of Highway 98.
New construction homes
Below you will find links to the new construction homes being built in 30a, Santa Rosa Beach, North Santa Rosa Beach, Freeport, Miramar Beach, and Destin.
New construction homes for sale on the Emerald Coast
December 3, 2023
$1,495,400
Med. List Price
New construction homes for sale on the Emerald Coast by Price
New construction homes and developments around the Northwest Florida Panhandle and Emerald Coast of Florida
Some of the most popularand largest home Builders in Northwest Florida include DR Horton, Adams Homes, Randy Wise Homes, Holiday Builders, & DKM Custom Homes, Samuel Taylor homes, Arthur Rutenberg (AR homes), Truland Homes, St. Joe Company, Martelle Homes, DSLD Homes, Kulter Homes, Huff Homes, Lord & Son Construction, Century Complete Homes, and more.
Should I use a real estate agent when buying new construction homes?
When you're looking to buy a new construction home anywhere in Northwest Florida it's important to know being represented by realtor will make sure that your best interests are covered. Just about every homebuilder will work alongside of your realtor. You don't have to pay any additional fees to be represented by a realtor on your new construction project. Furthermore, it will only benefit you by having someone on your side. It's important to remember that especially in the larger communities that are being built on site agent is working for the builder not necessarily for you. Having a great local real estate agent that is familiar with our communities will help to ensure you get the most benefits, concessions, and pricing on your property.
If you visit any of the local subdivisions or neighborhoods being built and speak with an on-site agent make sure to tell them that you are working with us. They will typically register you and whichever member of Team Margagliano that you're working with together.
Featured communities of Northwest Florida