Mainsail Condo - For sale
Location: 114 Main Sail Drive, Miramar Beach, Florida 32550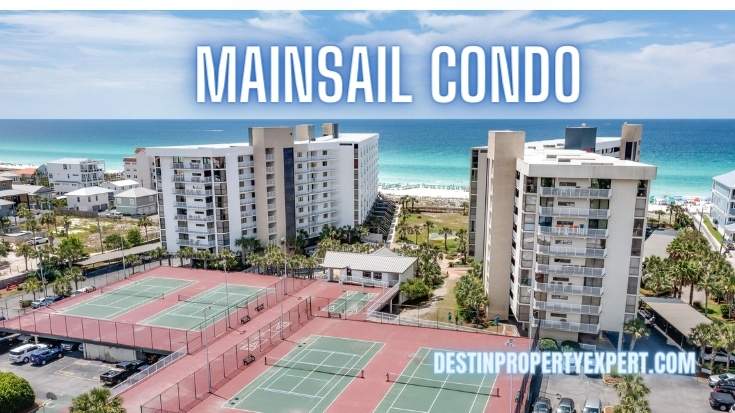 The Mainsail Condo in Miramar Beach is a beachfront condo on the Mainsail Resort encompassing 15 acres of beachfront property. The Mainsail Resort and Condo is a full-service resort offering all of the amenities you would expect from a beachfront condo in Miramar Beach. Building 1 & 2 are both beachfront and buildings 3 & 4 are just behind them still offering great views.
The complex is gated and has a 24-hour guard on duty. Just outside of the complex is the Chick-fil-A of Miramar Beach and Silver Sands outlet mall. Nearby condos are Grand Dunes and Edgewater Resort. If you are interested in buying or selling at Mainsail Condo Resort in Miramar Beach please call Danny Margagliano at 850-830-4747.
Mainsail Condos for Sale
November 28, 2023
Miramar Beach Featured Condos
About the Building:
At Mainsail Resort, guests can choose between two, three, and four-bedroom condos. All types are quite spacious and can fit between 6 to 10 people at a time.
The sizing of each condo unit differs. As such, maximum capacity also differs. Some two-bedroom units can only fit six people whereas other two-bedroom units may occupy up to eight or nine people.
All bedrooms have connecting bathrooms, meaning the two and three-bedroom units have two and three bathrooms in total. Four-bedroom units have four and a half bathrooms.
Each room has a solid view of the beach, which guests can enjoy as they spend time in either their private balconies or living rooms. The living room has cozy seating so families can curl up around the HD television, taking advantage of the resort's free DVD services.
What to Do near the Mainsail Condos?
Although Destin is a prime vacation spot, it only has a few shopping strips. One of the main luxury shopping outlets is very close to the Mainsail Condos. It is called the Silver Sands Designer Outlet Mall where both family and friends can find enjoyable activities.
The mall has a range of luxury brands, including Coach, Kate Spade, Ralph Lauren, Saks Fifth Avenue, Vera Wang, and more. It also has more affordable brands such as The Gap, Target, Nike, Banana Republic, and Columbia Sportswear.
The shopping strip is located on Emerald Coast Parkway, which is just a short drive from the Mainsail Condos. Tourists can even get up to 65% discounts at certain outlets and restaurants in the strip, which is why the mall is so popular.

Mainsail Condo amenities
Guests can enjoy all sorts of amenities at Mainsail Resort, including shuffleboard which is the ultimate pastime for all vacation-goers. The management has even assigned a representative to teach people how to play.
For children, the resort has a kiddie pool with a fountain for toddlers. The resort also has a clubhouse loaded with games and playpens. Parents can enjoy themselves at the pool as the children visit the fully supervised clubhouse.
There are 2 pools located on the grounds at Mainsail. The pool near the beach is the primary pool during the summer. The second pool is located closer to the entrance and is heated during the winter.
Other amenities include:
Tennis courts
Exercise room
Game room/arcade
Community room
Emerald Coast Featured Communities