Sunset Harbor Palms condos for sale Navarre Beach, Florida
Location: 7472 Sunset Harbour Drive, Navarre, FL 32566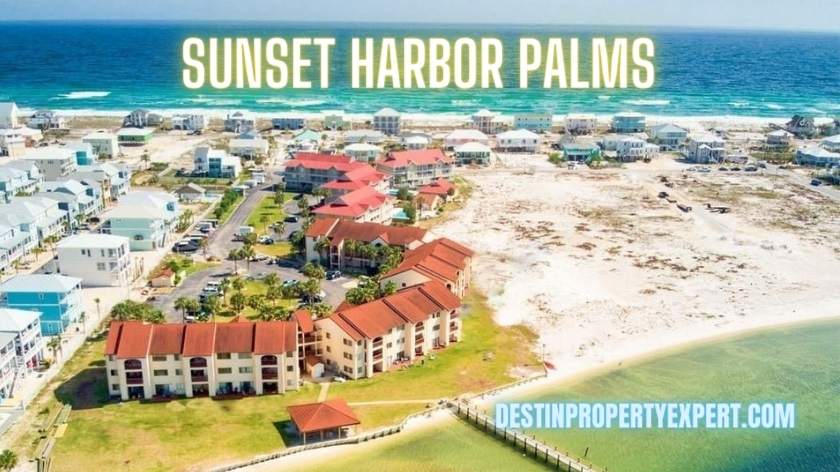 The far east end of Navarre Beach has a stunning secret that is pleasing for married couples to know. Sunset Harbor Palms is that special condominium complex that caters to couples needing a romantic getaway. Located along the shores of the Gulf Islands is this complex that is tucked away from clear public view.
Room Size
The units at Sunset Harbor Palms have a selection of 1, 2, and 3 bedroom condo units.
Amenities
Sunset Harbor Palms has its own private beach area positioned along the Gulf Islands National Seashore, which means that you will step foot on the beach in no time. You have a spacious picnic area that has community barbecue grills available. You will also have access to an outdoor community pool.
If you are in the mood to just relax and take in the summer breeze, then you can step out of your unit and recline in elegant outdoor furniture on an outdoor balcony. Staying indoors you and your spouse can stay busy watching a Smart TV that has basic cable channels, or you can pop in DVDs of your favorite movies to spend an entertaining night.
After enjoying the beautiful beach you can clean clothes if you need to with the help of a washer and dryer combo hookup, an iron and ironing board, and laundry detergent, which are all provided for you at no cost. Cooling off during a hot summer day will be easy in your unit as you can either use a ceiling fan or a built-in air conditioning system.
The kitchen will provide all the basic commodities you and your spouse will need including a refrigerator, microwave, stove-top oven, coffee and tea maker, toaster, and dishwasher. You will also be given an electric wine bottle opener so you and your spouse can enjoy a romantic night together.
Below you will find all condos for sale at Sunset Harbor
Sunset Harbor condos for sale
December 3, 2023
Things to Do
If you are the type of person who likes to surf or paddle about on the open sea, then the Sage Paddle Company will hook you up with the right tools! If you need to rent a paddleboard so you can take on the Gulf of Mexico's waters for the day, then Sage Paddle Company can accommodate you. This company also specializes in delivering other rentals such as kayaks, scooters, and bikes.
If you are looking for a unique souvenir shop in the Navarre area, then Marlene's Sea Shell City is the place to check out. The types of souvenirs and goods you can see at Marlene's include wind chimes and chandeliers made out of seashells, wooden seagull and pelican ornaments, and beautiful paintings of beaches, bikes, and cars. Also provided are water toys, stuffed animals, and wooden ships for children.
Conclusion
Specifically designed for married couples to successfully make their vacation getaway, Sunset Harbor Palms is the ideal place to go to embrace a tropical paradise. Catching great views of the oceanfront and having fun in the pleasant Florida weather, your time at Sunset Harbor Palms will be a memorable one.