Aqua condos for sale – Panama City Beach, FL
Location: 15625 Front Beach Road, PCB, Florida 32413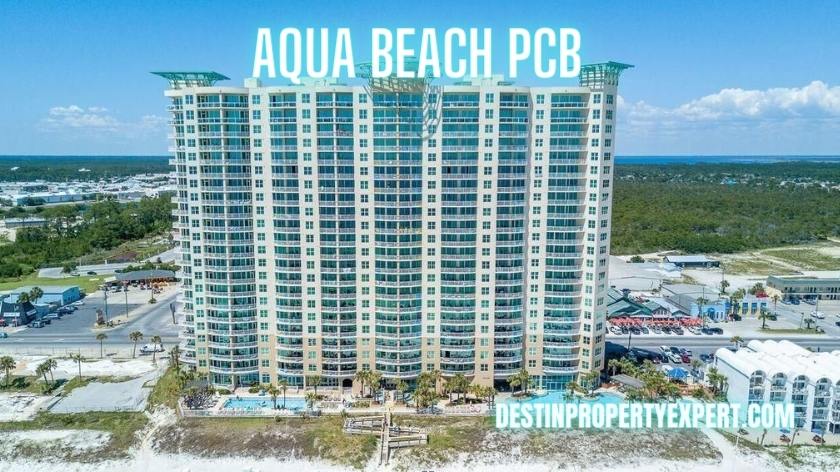 If you are looking for a high-scale condominium to rent out as your dwelling place, then moving into Aqua Gulf would be a great choice. Built in 2007 this 22-story luxury resort is conveniently positioned along the shores of the Gulf of Mexico, offering beautiful views and the best quality amenities. You can either be entertained in the theater room, or you can lounge around and socialize with others in the poolside café. Flat-screen TVs and wireless internet are provided in the café.
There is also a fully-equipped fitness center and multiple steam rooms to access. While you work out for the day, you can take in the amazing views of the Gulf. Moving through this resort will be a breeze as you can take the high-speed elevators to get from one room to another.
If you plan to have parties or meetings with friends or family relatives, Aqua Gulf can accommodate by assigning special rooms for these events. When throwing a party, what better way to celebrate the occasion than to take a swim in the pool? The pool area of the resort features a tropical pool deck, an indoor and outdoor pool, and another pool specifically designed for relaxation. You have access to a pool area that is within steps of the Gulf's sparkling waters.
One of the near by neighboring condos that you might also be interested in is Calypso which is only a few hundred yards to the west. A place that will entertain kids, seniors, and everyone in between is Gulf World which is within walking distance from the Aqua condo. If you need another reason why people love staying at Aqua condo is that you can also walk to Pier Park. Pier Park has just about everything you can ask for shopping, restaurants, entertainment, bars, movie theater, and so on and so on.
Aqua condos for sale
December 1, 2023
When entering and exiting the resort you will be met by a pleasant porte-cochere entrance that is enhanced by elegant cascading water features. The grand lobby and the reception area are surrounded by beautiful water gardens, which present a welcoming environment.
Parking
Aqua Gulf offers both covered and non-covered parking options. The covered parking garage will give you access to the resort via an air-conditioned and elevated walkway. There is a maximum parking capacity for 2 vehicles per reservation at a cost of $20 per vehicle for each stay. You must contact a rental agent 7 days prior to your check-in date if you need parking for additional vehicles.
Condo unit details
There are 233 units available at Aqua Gulf, and there is plenty of diversity when it comes to how many bedrooms these units have. There are 66 1-bedroom units, 86 2-bedroom units, and 83 3-bedroom units to choose from. You will have much room to utilize in regards to square feet as Aqua Gulf offers a lot of space. For a 1-bedroom, 2-bathroom unit you will have 1,017 and 1,104 square feet. For a 2-bedroom, 2-bathroom unit you will have 1,273 and 1,475 square feet for the bunk rooms, 1,283 square feet for the hall bunks, and 1,368 square feet for the bunk alcove.
Most of the units provide the same accommodations in appliances, such as 40-inch and 50-inch flat-screen TVs, DVD players, and General Electric monogram appliances like washing machines and dryers. Kitchens will provide useful tools such as refrigerators with built-in ice makers and microwaves. You will feel right at home in the kitchen as you can prepare meals on top of sturdy granite countertops.
On site management
Aqua Gulf has an on-site concierge and management team with an office that is open all 7 days of the week from 8:00 am to 5:00 pm. If you need any help in utilizing the resort's services, the concierge and management team will offer appropriate accommodations.
Emerald Coast Featured Communities