AquaVista condos for sale – Panama City Beach, FL
Location: 17155 Front Beach Road, PCB, Florida 32413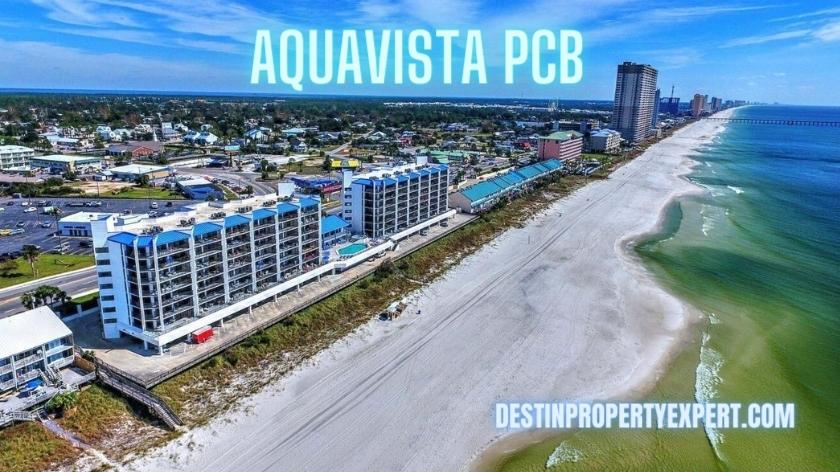 Divided into two separate buildings is Aqua Vista, a successful condominium that was built in 1985. Both buildings are 8 floors high and contain 48 units each. If you are specifically looking for more than a single bedroom for a unit, Aqua Vista is the right place.
There are overall 80 2-bedroom units and 16 3-bedroom units between the two buildings. The space you will have in square feet will be more than satisfying. 2-bedroom, 2-bathroom units are 1,200 square feet of living space and 169 square feet of covered balcony space. 3-bedroom, 2-bathroom units are 1,400 square feet. The additional balcony spaces of these units are 209 square feet of covered balcony space divided between the living and dining areas and the master bedroom, or covered wrap-around balcony space that is 309 square feet.
Amenities at AquaVista
The amenities provided by Aqua Vista are sure to keep you busy for all the right reasons. Some of the main amenities offered are dedicated access to Panama City Beach and general beach services. If you keep a rigid exercise routine, there is an exercise room made available at the resort. You will also be comforted knowing that both the entrance and exit paths of the resort are gated. If you need to cool off during the hot summer season, outside showers are also provided.
Cleverly positioned between the two buildings is an outdoor heated pool with an elevated sun deck, so you can relax and take in the sun during the warm summer days. Also included are a hot tub and sauna, which adds to the experience of living on Panama City Beach. If you don't find a condo for sale at AquaVista below try some of the other condos in the area or call Danny Margagliano for assistance at 850-613-0929.
Some nearby comparable condominiums are
Calypso
and Seachase.
AquaVista condos for sale
December 3, 2023
Neighborhood:
Aquavista Condo
Neighborhood:
Aquavista Condo
Checking in to the Resort
Right away, you will notice upon entry that there is no front desk for check-ins. Instead, contact-free check-ins are offered, which means you can go straight to your unit or follow the check-in instructions of your unit. There is a minimum age requirement for renting a unit at Aqua Vista. You must be at least 25 years of age and accompany all fellow guests you bring along to meet this requirement.
Parking
Covered and non-covered parking are both offered by Aqua Vista. However, you must obtain a parking permit first as it is required. Once the permit is obtained and displayed on the driver's side dashboard, you are free to utilize the resort's parking lot. There is no charge for the first passenger vehicle, but a second passenger vehicle will be charged $25 per week or $35 per month. Any non-passenger vehicle will be charged $50 per week.
Pet policy
If you are a pet owner, Aqua Vista allows your pet to be in a rental unit. Your pet must be on a leash while on the property. Owners are required to clean up after their pets.
More
Aqua Vista's units are all conveniently designed to accommodate your needs, providing the most basic features to make for an enjoyable experience. You can expect to see a master bedroom that has a king-size bed and a master bathroom that has a walk-in tied shower and a walk-in closet. A second bedroom will feature a queen-size bed and a walk-in closet. The living area will also have a queen-size bed. Flat-screen TVs are provided with HD Comcast Cable that has free HBO included.
At the beach
You will be given 2 free beach lounge chairs and an umbrella that you can use for the outdoor terrace deck of your unit. These accommodations are available from March until October each year. Even if you stay indoors throughout the day, you can still enjoy the beautiful scenery of the Gulf of Mexico by looking through windows that stretch from the floor to the ceiling.
Emerald Coast Featured Communities