Regency Towers condos for sale – Panama City Beach, FL
Location: 5801 Thomas Dr., PCB, Florida 32408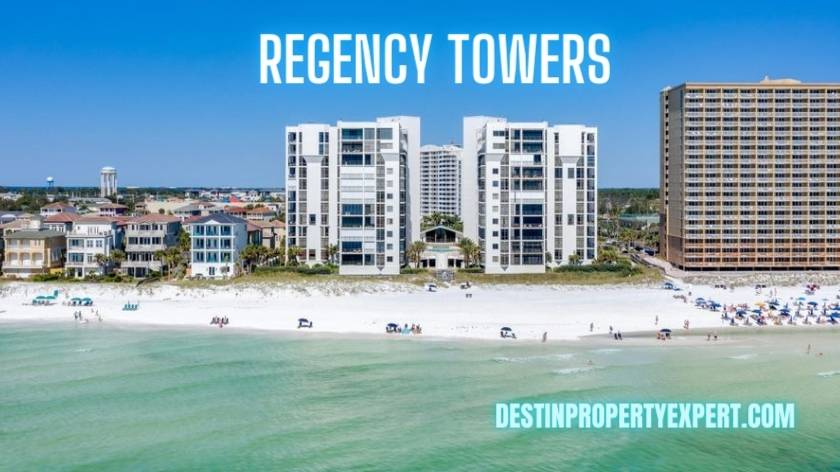 Regency Towers is a luxury condo rental agency that's located in a peaceful gated part of Panama City Beach. Since it's a gated area, the rentals are ideal for a tranquil and restful getaway from city stress and pollution.
About the Building
Regency Towers has multiple two and three-bedroom condo units, which each come fully stocked with home necessities such as washer/dryers, complete kitchens, and toiletries. Although the number and type of appliances vary from unit to unit, all condos have the basics.
Additionally, all condos offer spectacular views of the area's private beach. Living near the beach means enjoying gentle blue waters and warm sand. With Regency Towers' westward-facing architecture, renters experience beach days and sunsets daily.
Typically, the minimum stay period ranges between three and five nights, depending on the season. Unsurprisingly, Regency Towers is famed as a summer vacation hotspot, lauded for its summertime amenities and events.
Overall, all condos are top quality in terms of interior design and material needs. All renters can feel at home without the responsibility of running a household. The rental agency provides in-house cleaning and maintenance services. The maintenance staff is on standby 24/7 for any issues that may arise. For all your other home cleaning needs you can try Homeaglow.
About the Amenities
All in all, Regency Towers In-house Rental Program provides multiple fun-filled amenities to their guests. Of course, no beachside Condos are complete without the availability of two saltwater pools and indoor hot tubs. For children, there is a separate kiddie pool near the adult swimming pools.
Renters can find a world-class tiki bar near the beach, which sells amazing cheeseburgers and beach-themed cocktails. There are also multiple picnic areas and party rooms scattered around the building. Vacationers can host special events for their friends and family.
The area also hosts fun events such as karaoke and movie nights. Moreover, they also have billiards and game rooms where they host fun competitions such as bingo and pool. Overall, there are multiple activities available on the premises.
Regency Towers condos for sale
November 28, 2023
What to Do Near the Regency Towers Condos?
Vacationers can rent boats through Regency Towers-associated boat rental agencies. The boats regularly take people to the nearby Shell Island. The island, which is about seven miles long, is famous for its untouched tropical beauty. It's an amazing place to collect seashells and explore the local wilderness.
Other than Shell Island, the boat services can also be used for deep-sea activities such as scuba diving and snorkeling. The former is quite enjoyable, especially considering the rich dolphin population in the area. If pointed in the right direction, divers can easily swim with dolphins. The wild dolphins are known to follow boats and play with people.
The locality has many more attractions. For example, if someone isn't interested in boating, they can visit the local water and amusement parks. Regency Towers also hosts a large-scale zoo and the Ripley's Believe It Or Not Museum in its vicinity.
Emerald Coast Featured Communities