Sterling Breeze condos for sale –Panama City Beach, FL
Location: 16701 Front Beach Rd Panama City Beach 32413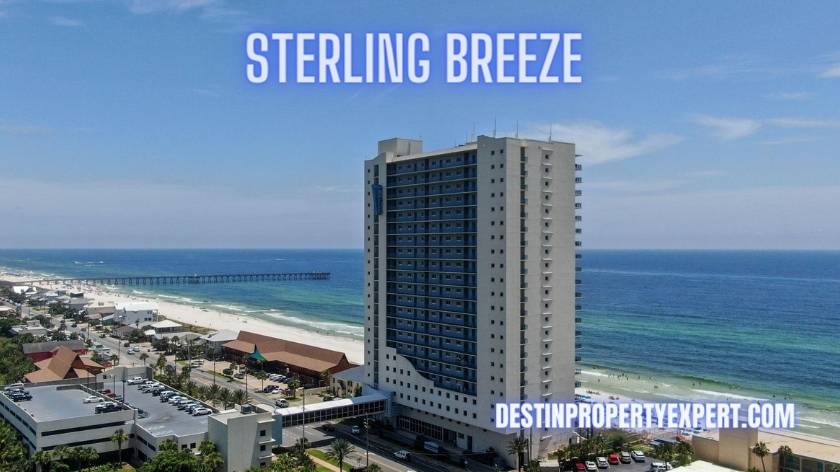 At the Sterling Breeze condo, you will find a peaceful and relaxing environment that will rejuvenate you. Enjoy a coffee at the lobby overlooking the beach or relax when your private balcony gazing at the Gulf of Mexico.
Sterling Breeze is a beachfront condo and offers unobstructed beach and Gulf views in every condo unit. When you're not lounging in one of the 2 private pools or walking down the beautiful white sandy beach, you can enjoy other amenities this resort has to offer. Sterling Breeze features on-site amenities including pools, tennis courts, fitness center, library with WiFi, barbecue grills & more! You will have everything you need right at your doorstep - including plenty of opportunities to socialize with other guests!
When staying at Sterling Breeze you can visit any of the many attractions nearby – from Ripley's Believe It or Not, to local water parks, there are plenty of things to do for you and your family. Located in the heart of Panama City Beach, our condo offers easy access to all the city has to offer. From shopping and restaurants to entertainment and sporting events like horseback riding at Gulf Coast Stables, there's always something new to experience here.
Sterling Breeze Condos for sale
September 22, 2023
For an at-home experience, Sterling Breeze is the best condominium rental resort in Panama City Beach. Although each condo unit is designed professionally, the overall feel of the resort is cozy and comfortable, ideal for summer and winter getaways.
About the Building
First of all, the Sterling Breeze resort has over a hundred condo units, all set with fully-stocked kitchens, washing/drying machines, home theatre systems (inclusive of DVD players), and essential starter kits such as coffee/tea packets, luxurious bath toiletries, fabric cleaner and detergent, and drinks.
All in all, each condo unit ranges from one to two bedrooms, and can easily house two to eight people. Regardless of size, each unit will have at least two full-sized bathrooms. Larger condos have powder rooms as well or a third full-sized bathroom, depending on the dimensions.
Each condo unit is unique, both in terms of design and interior. However, the resort management ensures uniform quality and high-class decor. The management also handles the resort parking reservations. Most guests can easily reserve spots for their cars or vans.
Moreover, the resort is located less than a mile from the Panama City Beach County International Airport. This means it's an easy and convenient ride for out-of-town renters, which is an excellent perk.
About the Amenities
On the whole, the Sterling Breeze Resort's main amenities include a communal grilling area and five-star spa facilities. In terms of the latter, the spa includes a whirlpool jacuzzi, sauna, and steam room. However, renters can also book massages and facials with locally sourced skincare ingredients.
Other than this, Sterling Breeze also has an excellent internet cafe where many adults and teenagers can work or play individually. The cafe provides headphones and other necessary equipment.
The resort also has a great wine bar, which houses an impressive collection of chardonnays and rosés. For an added fee, renters can request a special bottle of wine or champagne for their stay. The management can even source rare bottles upon request.
The resort management also encourages renters to utilize their home theatre systems in their condos through their free DVD rental systems. Guests can request can movie and be provided with a DVD copy for their condo's DVD player.
What to Do Near the Sterling Breeze Condos?
Apart from its in-house amenities, Sterling Breeze has multiple attractions nearby. For example, it is approximately two miles away from Pier Park, which is the shopping hub of Panama City Beach. From local handicrafts to luxury shopping brands, Pier Park has diverse goodies.
Pier Park also has multiple dining options, both in terms of fast-food restaurants and high-end cafes. It also has an IMAX theatre, which showcases the latest releases in both American and foreign films. Moreover, the pier also has a laser tag playground for both kids and adults.
Sterling Breeze is also near Frank Brown Park, which is a famous outdoor recreational facility in the area. It has a world-class sports facility for tennis, soccer, volleyball, and basketball enthusiasts.
Emerald Coast Featured Communities