Sterling Reef condos for sale – Panama City Beach, FL
Location: 12011 Front Beach Road, PCB, Florida 32413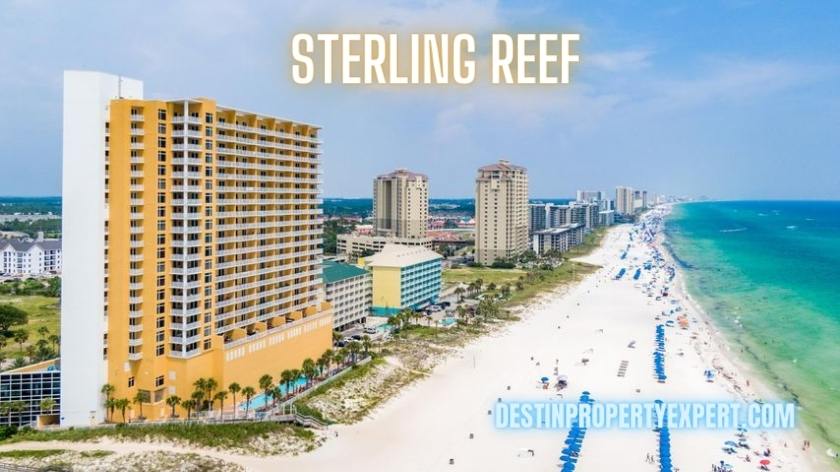 You've probably heard that Panama City Beach is one of the most popular vacation destinations in Florida, but did you know that it's also one of the cheapest?
Regardless of whether you're living full-time or just visiting, Sterling Reef offers affordable living to all its guests with limited turnover rates because people love it here so much! It's conveniently located close to the beach and has a fantastic return on investment potential for those who purchased a condo here.
About the Building
Overall, the building has around 38 condominium units, which have identical architectural and design features. Each unit is relatively small, housing up to five people at maximum. As such, the condo resort caters to smaller vacation groups.
However, the small size adds to the coziness of the resort. On the whole, the major selling point of Sterling Reef is the privacy and quiet of the area.
Sterling Reef condos for sale
September 26, 2023
Emerald Coast Featured Communities
About the Amenities
As mentioned, there are multiple water sports options available nearby. Vacationers can sign up for jet-skiing, snorkeling, or kayaking through the resort's in-house services. Moreover, they can also sign up for deep-sea diving classes.
The resort also provides a high-quality gymnasium with a complete tennis court and basketball facility. Vacationers can also rent bikes at the resort. The local bike trails are beautiful, adorned with local flora and fauna. As such, completing the biking trail is undoubtedly worth the effort.
Other than this, the resort also has basic amenities, including fine dining restaurants, swimming pools, and game rooms.
What to Do Near the Sterling Reef Condos?
Sterling Reef is less than a mile away from several of Panama City's prominent amusement parks, including Shipwreck Island. It is also near other sports centers and mini-golf courses.