Tropic Winds condos for sale – Panama City Beach, FL
Location: 17643 Front Beach Road, PCB, Florida 32413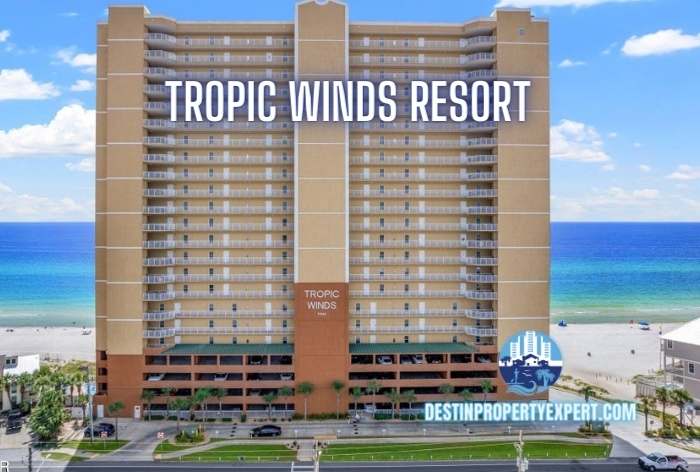 Tropics Winds Beach Resort is a favorite among vacation-goers in Panama City Beach. Located in the heart of Front Beach Road, the condo offers some of the best Beach and Gulf views. Boasting some of the best amenities in town, the Tropic Winds is one of the best places to relax and lay back. One of the biggest attractions to Tropic winds condo is that it doesn't have neighboring high-rise buildings. Therefore, the beach in front of the resort has plenty of room for everyone to spread out and enjoy.
About the Building
Owners and guests will find either two-bedroom or three-bedroom condos at the resort. The 2-bedroom condos can fit around six people, whereas the 3-bedroom condos can fit around eight or nine.
Tropic Winds Amenities
Gulf front condominium
Indoor/outdoor swimming pools
Fitness center
Owner pets allowed
Sauna/steam room
Short-term rentals allowed
Hot Tub
Gas barbecue grills and picnic area
Tropic Winds condos for sale
December 3, 2023
Emerald Coast Featured Communities
More About the Amenities
As for the amenities, the resort boasts a classic range of facilities, ranging from a large outdoor pool with a view of the Gulf of Mexico. The resort also houses four hot tubs and sauna facilities where guests can relax their aches.
The pool deck area frequently sees a host of activities. For example, the resort, being kid-friendly, has a separate area where children can play in the water. If a child does not know how to swim, they can sign up for the resort's swimming classes.
There are several cafes and restaurants on the resort premises, which provide guests with delicious food 24/7. However, guests can cook with the resort's state-of-the-art outdoor grills.
More about Tropic Winds Condo
All condos are beautifully furnished with vibrant color schemes and classic wooden furniture. The interior designs range from bohemian chic to mid-century modern. As such, renters can easily choose condos where they feel more comfortable.
Tropic Winds resort is wheelchair-friendly. Some condos are spacious enough for wheelchairs to glide through easily. Therefore, both senior citizens and people with physical disabilities can enjoy the resort without worries.
What to Do near the Tropic Winds Condos?
Although the resort itself has an excellent range of food options, the locality is known for its famous waterfront restaurants such as Capt. Anderson's and Pineapple Willy's Restaurant. The former is a critically acclaimed beachside joint, famous for its seafood BBQ.
Capt. Anderson's has been around since 1967 and has become a local treasure. It has gotten much recognition from food and dining experts, having received the 'Best Seafood Restaurant' and 'Award of Excellence' titles from the Southern Living and Wine Spectator Association.
The restaurant serves many traditional local favorites, including grilled fish, shrimp and grits, and buttered lobster. However, one of the current most popular dishes includes the whole silver pompano, which is served with a lovely lemon-citric sauce and seasoning.
There is also Pineapple Willy's Restaurant, which has existed since 1984. This restaurant also has a rich local history, dating back to the 1930s when the founders set up a small beachside shack to sell lobsters.
In 1984, the grandson of the founders, William Buskell (locally known as Pineapple Willy), turned the shack into a restaurant, selling top-notch ribs and seafood.