Twin Palms Resort condos for sale – Panama City Beach, FL
Location: 10519 Front Beach Road, PCB, Florida 32413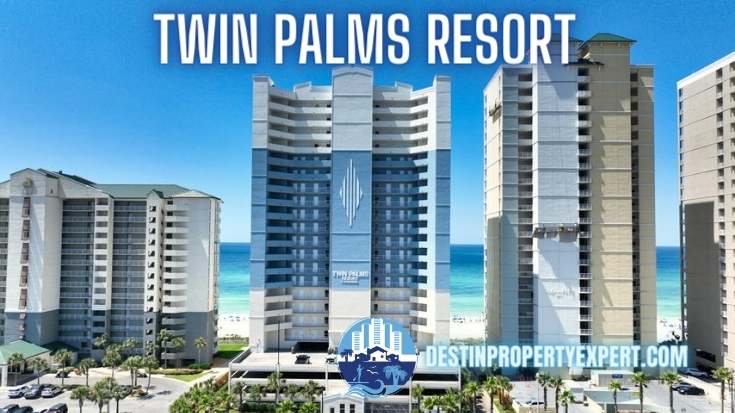 Twin Palms is a famed vacation rental resort, located in a prime part of Panama City Beach. It's an amazing place to spend time with your spouse, friends, or family. Set near multiple fun parks, shopping centers, and restaurants, Twin Palms caters to everyone's interests.
The Twin Palms resort is built across 200 square feet of private beach access. All 22 floors of the resort's high-rise condos showcase magical views of the rich blue waters of the Gulf of Mexico and powder-soft sandy beach. Each floor houses a set of one and two-bedroom condos.
One-bedroom condos are ideal for one to four people. On the other hand, two-bedroom condos can fit around six to eight people. All condos have spectacular master suites with intimate and cozy furnishing and organized storage spaces
Twin Palms amenities
barbecue grill
swimming pool
fitness center
owner pets allowed
game room
gated condo complex
Twin Palms Resort condos for sale
May 28, 2023
Emerald Coast Featured Communities
Condo unit descriptions
In two-bedroom units, there are usually two king-sized beds. Moreover, the ocean-facing bedrooms have private access to the condo's balcony. As such, guests can wake up to gorgeous sunrises streaming through their glass doors.
The kitchens are well-stocked and can even have customized items. Guests and owners must request with the resort management and provide a list of desired groceries. As such, no one needs to worry about finding the nearest supermarket or convenience store.
About the Amenities
Overall, the Twin Palms Condominiums are a midscale scale resort, combining the best of both worlds. The facilities are affordable and high-quality. Guests can enjoy various activities on the resort premises, including top-tier spa facilities.
The resort boasts an excellent steam room and sauna. The spa services include several facials and massages catering to couples and individual guests. Guests can schedule massages, by calling a professional therapist to their unit.
Twin Palms also has an excellent gym that was recently renovated to include top-of-the-line equipment and facilities. Guests can enjoy all types of exercises in this comprehensive fitness setup.
What to Do near the Twin Palms Condos?
The Twin Palms Resort is located in the center of Panama City Beach. As such, it is set near multiple local attractions, including nature parks, water activities, and shopping centers. However, it is most known for the events that happen in the area.
Moreover, the area sees multiple annual festivals, including the Thunder Beach Fall Rally. This rally usually happens in autumn. It lasts around a week, beginning with a welcome night for competitors and fans.
The rally involves a succession of bike performances, including impressive stunts and parades. It's quite a famous event, attracting bike enthusiasts from all over the country.