Waterfront homes for sale in Pensacola, FL
Pensacola, Florida, has all types of waterfront properties. You may feel that the entire area is waterfront, from beachfront homes to bayfront homes to lakefront homes, but unfortunately, that is not the case. Although, there are many waterfront homes to choose from if you are looking to make a new purchase.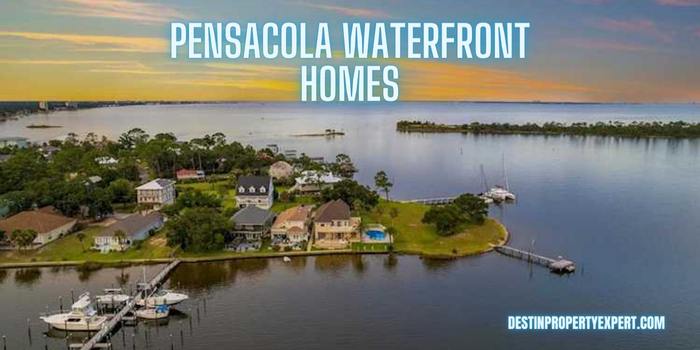 When buying any waterfront property, it is vital to make sure you're aware of the nuances that may come along with the home. For instance, if the home is on the bay, sound, bayou, or canal front, you may want to know the water depth along the property line or access to the Gulf. It would also be wise to find out the regulations on building a dock if one does not currently exist. If you're buying a home on a lake, ask if you are permitted to fish, have a boat, or build a dock. If you are househunting for a Gulf front home you want to about the Coastal Construction Control Line (CCCL). These are just a few of the things you may want to consider when looking for waterfront property in the Pensacola Bay area.
For more information about any Pensacola waterfront homes for sale, call/text Team Margagliano at 850-613-0929.
Pensacola waterfront homes for sale
November 28, 2023
Featured Emerald Coast communities
Beachfront condos for sale in Pensacola Beach
48 Properties
Address
Beds
Baths
Sq.Ft.
Price(%Chng)
$/Sq.Ft.
On Site
1150 Ft Pickens Rd #B-11
Pensacola Beach, FL 32561
2
2
768
$438,500
$570.96
10 days
900 Ft Pickens Rd #1023
Pensacola Beach, FL 32561
1
2
835
$425,000
$508.98
11 days
1200 Ft Pickens Rd #2A
Pensacola Beach, FL 32561
3
2
1,410
$975,000
$691.49
14 days
1111 Ft Pickens Rd #312
Pensacola Beach, FL 32561
2
2
1,638
$725,000
$442.61
16 days
336 Ft Pickens Rd #W209
Pensacola Beach, FL 32561
1
1
672
$324,900
$483.48
16 days
1111 Ft Pickens Rd #111
Pensacola Beach, FL 32561
3
3
1,608
$765,000
$475.75
21 days
1150 Ft Pickens Rd E-11 #E11
Pensacola Beach, FL 32561
2
2
768
$444,000

-1.1%

$578.13
23 days
2 Portofino Dr #1009
Pensacola Beach, FL 32561
2
3
1,333
$830,000
$622.66
27 days
2 Portofino Dr #708
Pensacola Beach, FL 32561
2
3
1,333
$899,000
$674.42
29 days
4 Portofino Dr #803
Pensacola Beach, FL 32561
2
3
1,333
$815,000
$611.40
32 days
1100 Ft Pickens Rd #A-15
Pensacola Beach, FL 32561
2
3
1,280
$565,000
$441.41
38 days
1100 Ft Pickens Rd #B5
Pensacola Beach, FL 32561
2
3
1,406
$595,000
$423.19
39 days
1300 Ft Pickens Rd #227
Pensacola Beach, FL 32561
2
2
716
$550,000
$768.16
39 days
1150 Ft Pickens Rd #B-10
Pensacola Beach, FL 32561
2
2
768
$430,000
$559.90
39 days
850 Ft Pickens Rd #940
Pensacola Beach, FL 32561
2
2
1,235
$715,000
$578.95
41 days
5 Portofino Dr #1007
Pensacola Beach, FL 32561
3
4
2,034
$1,800,000
$884.96
48 days
1625 Bulevar Mayor #K8
Pensacola Beach, FL 32561
1
1
760
$525,000
$690.79
48 days
850 Ft Pickens Rd #450
Pensacola Beach, FL 32561
4
3
2,540
$1,350,000
$531.50
53 days
1200 Ft Pickens Rd #1C
Pensacola Beach, FL 32561
2
2
1,174
$675,000
$574.96
57 days
3 Portofino Dr #1205
Pensacola Beach, FL 32561
2
3
1,333
$799,000
$599.40
63 days
1625 Bulevar Mayor #K4
Pensacola Beach, FL 32561
1
1
760
$575,000

-4%

$756.58
64 days
1650 Via Deluna Dr #A7
Pensacola Beach, FL 32561
2
2
914
$405,000

-3.6%

$443.11
64 days
999 Ft Pickens Rd #202
Pensacola Beach, FL 32561
2
2
1,244
$675,000

-3.4%

$542.60
65 days
2 Portofino Dr #609
Pensacola Beach, FL 32561
2
3
1,333
$815,000
$611.40
68 days
1650 Via Deluna Dr #C7
Pensacola Beach, FL 32561
2
2
914
$399,900

-5.9%

$437.53
68 days
1625 Bulevar Mayor #M6
Pensacola Beach, FL 32561
2
2
914
$650,000

-5.7%

$711.16
72 days
1111 Ft Pickens Rd #122
Pensacola Beach, FL 32561
2
3
1,606
$699,000
$435.24
72 days
1600 Via Deluna Dr #705E
Pensacola Beach, FL 32561
4
3
2,408
$1,800,000
$747.51
73 days
3 Portofino Dr #1607
Pensacola Beach, FL 32561
3
4
2,033
$1,450,000
$713.23
78 days
336 Ft Pickens Rd #E-200
Pensacola Beach, FL 32561
1
2
720
$399,000
$554.17
84 days
1625 Bulevar Mayor #F7
Pensacola Beach, FL 32561
2
2
914
$425,000
$464.99
89 days
1 Portofino Dr #507
Pensacola Beach, FL 32561
3
4
2,033
$1,299,000

-3.8%

$638.96
92 days
4 Portofino Dr #1802
Pensacola Beach, FL 32561
2
3
1,333
$870,000
$652.66
92 days
1150 Ft Pickens Rd H-4 #H4
Pensacola Beach, FL 32561
2
2
768
$485,000
$631.51
102 days
1100 Ft Pickens Rd #E-4
Pensacola Beach, FL 32561
2
3
1,092
$649,000

-7.2%

$594.32
105 days
1111 Ft Pickens Rd #524
Pensacola Beach, FL 32561
2
3
1,601
$745,000

-0.7%

$465.33
117 days
3 Portofino Dr #1003
Pensacola Beach, FL 32561
2
3
1,333
$929,900
$697.60
132 days
999 Ft Pickens Rd #205
Pensacola Beach, FL 32561
1
2
914
$521,000
$570.02
147 days
1100 Ft Pickens Rd #F11
Pensacola Beach, FL 32561
2
3
1,280
$595,000

-14.4%

$464.84
148 days
4 Portofino Dr #1904
Pensacola Beach, FL 32561
3
4
2,032
$1,700,000

-2.9%

$836.61
155 days
1150 Ft Pickens Rd #F6
Pensacola Beach, FL 32561
2
2
768
$429,000

-2.5%

$558.59
159 days
2 Portofino Dr #805
Pensacola Beach, FL 32561
2
3
1,333
$875,750

-5.8%

$656.98
165 days
2 Portofino Dr #603
Pensacola Beach, FL 32561
2
3
1,333
$899,990
$675.16
168 days
1625 Bulevar Mayor #H-5
Pensacola Beach, FL 32561
2
2
914
$455,000

-6.2%

$497.81
173 days
850 Ft Pickens Rd #740
Pensacola Beach, FL 32561
2
2
1,235
$707,000

-1.7%

$572.47
174 days
1600 Via Deluna Dr #102 W (B)
Pensacola Beach, FL 32561
2
2
1,156
$599,900

-11.4%

$518.94
188 days
1111 Ft Pickens Rd #521
Pensacola Beach, FL 32561
2
3
1,606
$745,000

-5.7%

$463.89
261 days
22 Via Deluna Dr #101
Pensacola Beach, FL 32561
3
2
1,494
$1,150,000

-3.4%

$769.75
301 days