Beachside I & II condos for sale – Sandestin Resort
Address: Beachside One/Two Drive Miramar Beach, FL 32550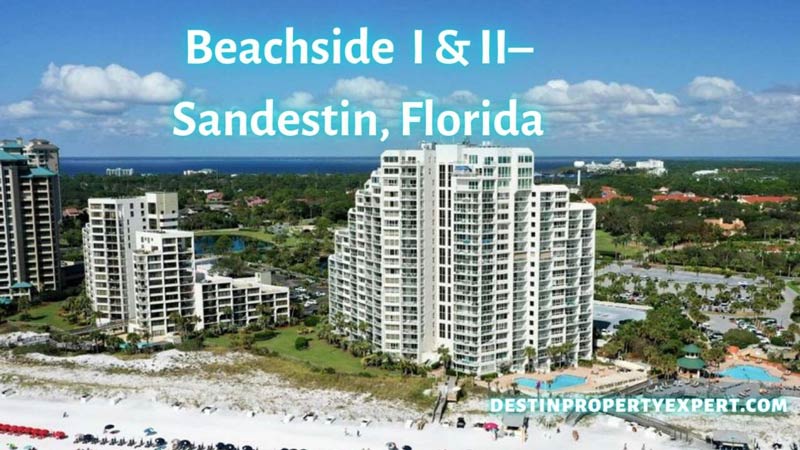 Miramar Beach is home to some of the most breathtaking views of the Gulf of Mexico, and it is also home to unique sites and scenery that you can't get elsewhere. By purchasing a condo at Beachside I or II, you will get complete access to all these spectacular views, as well as a comfortable living experience.
Beachside One was built in 1984. It stands 12 stories tall and has a total of 120 condo units iinside. The breakdown is 16 one-bedroom condo units (722 ft.²), 76 two-bedroom condo units (1210 ft.²), and 23 bedroom condo units (1571 ft.²).
Beachside Two Was built in 1986. Stands 21 stories tall and has a total of 149 units inside. There are more floorplans in Beachside II. You will find studios, 1 bedrooms, 2 bedrooms, and 3 bedroom units.
Having direct access to the beach, you will have no problem spending time in the sun while relaxing in a beach chair. Divided into two separate buildings, both Beachside I and II provide spacious balconies that you can walk on and look out to catch the amazing views of the oceanfront. For physical activities you can enjoy scheduled 90-minute rounds of tennis with family and friends, or you can head out for a round of golf at one of the nearby championship golf courses.
Beachside has amenities that are available to all tenants including high-speed elevators, an indoor fitness center, playground, and special docks designated for those who want to go fishing. Separate storage space is available for all tenants upon request. Large swimming pools are available at Beachside I & II so you and your family can enjoy a day out in the beautiful summer weather . If your children prefer to play outside without having to swim in the pool, there is an outdoor playground available.
If you are interested in buying or selling a condo at Beachside 1 & 2 in Sandestin call/text Team Margagliano at 850-613-0929 for more detailed information on current values and deals.
Sandestin featured condos
Beachside 1 & 2
December 3, 2023